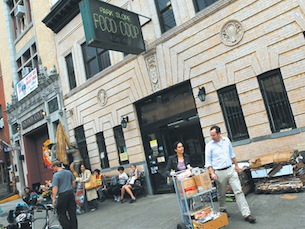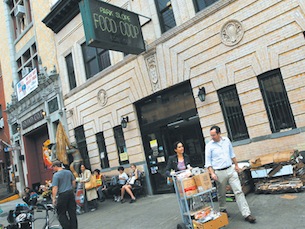 Look, I'm not against Coops. I'm also not against Communism. You do what works for you. But the notion of boycotting Israeli made products in an effort to catalyze peace in the Middle East is silly, small minded, and incredibly selfish.
And speaking of Brooklyn…The Park Slope Food Coop is currently considering joining the Boycott, Divestment and Sanctions organization, a movement that wants everyone in the world to stop ordering vegan marshmallows, olive pesto, and a machine that helps you make your own seltzer from Israel. The coop which has 16,000 members will vote on March 27th. It's actually incredible to me that this is a thing that is happening. In America. Never mind the fact that this foolishness impacts businessmen with families, and kids, and dogs, and babies, and all of those things, but to think that this is the way to harbor peace and change in the world. Welcome to protesting 2012. We don't leave our homes to stand outside consulates any more with placards and bullhorns. We just don't buy tehina.
Look, I can't say that I agree with 100% of the things Israel does, but to think that a change in a Brooklyn supermarket's inventory will impact an incredibly fraught political atmosphere. The notion of punishing the people, not the politicians frankly doesn't work. And this by no means justifies any social injustice perpetrated around the world (whether or not such a thing exists is up for debate), but to hypocritically not exercise this practice in other aspects of your consumer life is baffling. Why are the socially conscious in Park Slope (16,000 of them!) still buying Apple products after news report after news report establishes Foxconn as an unhealthy workplace causing more than a couple of employees to commit suicide? And why isn't the plight of the Tibetans a more widespread cause–after all, how many Park Slope Food Coop products are exported from China? Should I go on? Shall we walk down the aisles of the coop and point out how many problems there are associated with each and every food item? I mean, I'd be there all day. And that wouldn't be allowed because I'm not a Coop members (hey, how'd you get in here!?!)
But the point here is not that the Coop's cooperative heart isn't in the right place because I'm sure it is. In fact, I know plenty of people from Park Slope. They're adorably idealistic. I want to hug them all. But once you open this Pandora's Box of finger pointing, why should it start and end with Israel? My parents' generation would say that this is another form of Anti-Semitism. I don't think it's that simple. It's coming from an uneducated and myopic place, where the world is made up of black and whites and where more is expected of Jews. It's kind of a backhanded compliment.
Yet, there's nothing black and white about the political situation in Israel, and there are no absolute right and wrongs. Both the Palestinians and the Israelis have a mutual responsibility to work this through which is why it's taking so long to find resolution. They're very passionate people, but perhaps everything could be worked out over vegan marshmallows and seltzer?
What do you think?