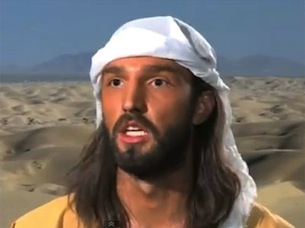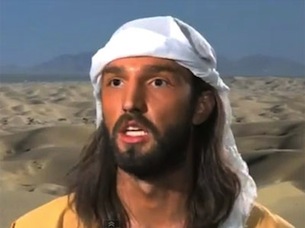 It's one thing to risk your life over something that has some artistic potency and heft to it. It's quite another to do so for a final product that looks so tragically awful that Adult Swim would maybe and ironically consider airing it, but then, ultimately, would pass. "Writer," "director," and above all, a-hole Sam Bacile of California (of course. California.) has gone into hiding quite possibly out of shame over his controversial film "Innocence of Islam," a low-budget movie that portrays Muhammad as a womanizer, child molester,  and a fraud. I'm just kidding. He went into hiding because he'd like to delay his inevitable death for as long as possible. Because, let's be honest. They will find him.
Now it's not my place to comment on the theories Bacile espouses, or on the follow-up interviews in which he claims "Islam is a cancer, period." My issue is not with his hateful, and prejudiced opinions–this is America and crazy people also have mouths. My biggest halal beef is with the 56-year-old lunatic's eagerness for announcing that he is an Israeli Jew. As if Israel needed help in exacerbating the tensions with its many neighbors.
Let me say this once. Because I believe this to my very core. IT IS NOT OUR JOB TO INVALIDATE OR BELITTLE OTHER PEOPLE'S RELIGIONS. This is not our way. We do not do this. We especially do not do this in a volatile political climate when even a fruitcake real estate developer (of course. A real estate developer) can ignite a maelstrom of blowback that has already resulted in riots and the death of a US Ambassador.
Wait, what's that, you complete idiot?  "I feel the security system (at the embassies) is no good," Bacile said yesterday about the embassy attack in Benghazi in protest of him being a moron. "America should do something to change it." Or, maybe we shouldn't release a terribly acted, crappy looking movie–I can't believe I'm calling this guy's poop "a movie," but anyway–that infuriates the largest growing demographic in the Universe?
If this guys starts World War III, I quit everything. And no, I'm not even going to embed the trailer he cut to preview his two hours of craziness. I will not contribute to those page views. I have some standards.
UPDATE: Wikipedia claims that Israeli authorities found no evidence of Bacile being a citizen, and there is no evidence of a Sam Bacile around 50 years old living in California or having a real estate license or participating in Hollywood filmmaking. Great. We've got a prankster. Or is this is an effort of the Israeli and US government to quell the irate reaction to all this silliness? I smell Mossad.
UPDATE #2: According to The Atlantic's Jeffrey Goldberg who spoke with a consultant for the film, Bacile is neither Israeli nor Jewish. Which makes this whole thing not only offensive, crazy, and stupid, but potentially anti-Semitic. Just another instance of "blame it on the Jews."
What do you think?