Israeli social networking site Merkusharim offers an alternative to choking down bubbe's gefilte fish this Passover: a Jews-only version of the Sims. Their "virtual seder" will include an unlimited number of seats and all the holiday trademarks: haggadahs and a seder plate made entirely of zeros and ones. Finally, a way to honor the Exodus while enjoying Chatroulette and streaming porn in separate windows.
For luddites still planning an actual seder this year, beware of the fake matzoh that could trayf up your entire dinner and send a plague down on your family. Israeli police recently busted a 7-ton stockpile of conterfeit unleavened bread made with non-kosher flour. Orthodox communities are posting photos of the fake kosher certificates to keep the religious as holy as possilbe. (Those in the San Francisco can cut out the worry by enjoying Heeb's annual Slow Food Seder.)
Real or fake? Only the rabbis, the cops and god knows for sure. Check the label.
Finally, the Mitzvah Mobiles are on the roll. No less than twenty were spotted rolling across the Brooklyn Bridge this morning with music blaring. To avoid the harassment and guilt, secular Jews in New York are advised to keep their heads down. Remember: Keep walking and avoid eye contact when asked, "Are you Jewish?" If not, prepare for that bit of the light bondage known as tefillin. Once they have you wrapped up, no safe word can set you free.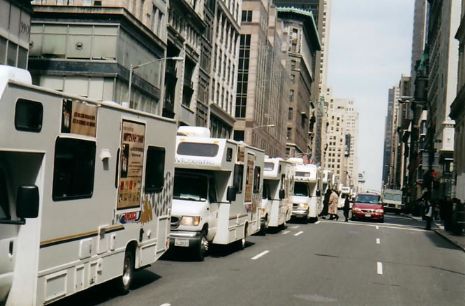 Orthodox hit the streets this week in hopes of Jewing up the non-religious.
Related posts:
The Heeb Slow Food Seder at Mission Beach Cafe: San Francisco, CA
Finally, A Passover Video That Doesn't Make You Hate Jews
What do you think?