Prince Paul opting to produce MC Paul Barman's debut LP was about as miraculous as Moses getting plucked from the Nile. Here was hip-hop royalty, the mastermind of Stetsasonic, De La Soul and Handsome Boy Modeling School, pulling into his court a Brown-educated, suburban white boy. The result of their collaboration was It's Very Stimulating (Wordsound) a hilarious 18-minute "iconoclastic rap shtick," as Paul describes. If you haven't heard Barman's musical shenanigans, imagine Eminem after inhaling a few bar mitzvah balloons—"So my bold groin reached for my gold coin/ Prophylactic/ I unwrapped it/ You know how I felt/ It wasn't a gold coin condom/ It was chocolate Hanukah gelt." The first truly post-minstrel Jewish rapper, he's a master of hip-hop's tropes who douses his sexcapades with borscht instead of whipped cream. He's self-deprecating one moment ("I'm hung like a birthmark,") and filled with bravado the next ("My dandy voice makes the most anti-choice grannies panties moist.") He gives props to seminal figures like Sir-Mix-A-Lot, the Jungle Brothers and LL Cool J, but also to less obvious influences like the Dead Kennedys, Chuck Close and his own pet hamster. He has done for Krzystof Kieslowski what the Beasties did for Lee Perry.
Thanks for joining us, Paul. Â
Look, here's what I want from Heeb. I want you to send me to Hawaii and Cambodia with a photographer to study the environmental effects of Pearl Harbor and Tomb Raider. Do you know they found an ancient monastery to film in? It had a dried up moat, so you know what they did? They filled it! I was reading this in Entertainment Weekly and the context was "movie magic." How about "irreparable harm?" Can we talk ideas? Â
Sure.

I was thinking on the way here that that would make a fucking awesome song. If the first verse was Titanic, the second verse was Pearl Harbor, and the third verse was Tomb Raider. And then it would be really nice, because I would have such a strong song concept that I could start writing the verses and do the chorus last, which is what makes a really awesome song. I've also tried to do it the reverse order, which is a more pop way of thinking. Where you're like,'what would be a dope chorus?' and then the verses you flush out as good as you can, but it's almost, like, second priority. Have you heard the Petey Pablo song?
No.
[Singing and twirling his arm.] 'Whip off your t-shirt and spin it like a helicopter…' Do you know how many people I run into spinning their t-shirts like a helicopter? That's a hit! With a chorus like that you wouldn't even need verses. You could have DJs like, cutting up.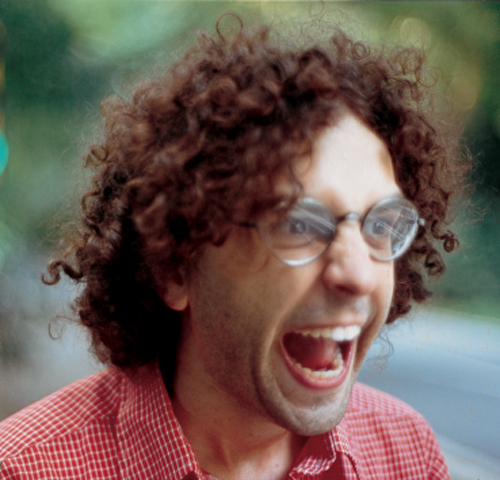 Â
So, what are you doing with yourself these days?
I went to Master Ace's studio in Queens yesterday and did some cameo. There were people everywhere! And he has some songs…oh my God! He's trying to do storytelling, but when he was a kid I guess he was a battler, and like, he rips into some people so hard. Â
You make a lot of Jewish references in your music. I'm thinking about the cashier in cashmere with a bra made of two yarmulkes in "Salvation Barmy."
Don't forget about "Hamstergram to Amsterdam!" It's my most fucking Jewish thing ever! It's all about Anne Frank! The hamster was based on Fievel [An American Tale] and Richieu from Maus! I was like, 'I sure would like to enter the canon for cuddly Jewish creatures.'
So what's your experience with religion?
Nil. I didn't go to Hebrew school.
So it must feel strange being embraced by the Jewish world, as you've been.
I had an interview with the Forward and was so excited. That's where Isaac Bashevis Singer used to publish his original serial stories in Yiddish! And the woman was kind of antagonistic, and more importantly, she had never heard a goddamn song, and for me press isn't important enough for that. I think she was kind of offended by all of the jizz flying in the songs. I immediately sized her up as a pain in the ass and we spent a very painful hour being antagonistic. The article came out horrible, of course. Do you have a cell phone?[The Heeb photographer hands Paul a phone.] I need to call my dad. I'm going to be late. [He calls his dad.] Hi, this is Paul Barman calling for Tom Barman, please…Hi Dad…I'm good how are you? I'm going to be a little late. I came late to the interview and then it ended up being interesting, so would three be okay?..well, 3 is fine for me…are you there? I won't be later than three…thanks dad, I'll see you soon. Â
I think a great Paul Barman moment was when you threw Hanukkah gelt to the crowd on opening night of Jewzapalooza at the Knitting Factory. Â
With gold coin condoms! They were expensive too! They were a dollar each. Did you ever see The Show? Biggie Smalls basically has a cartoon bag of money, the type of thing that on Batman would have a huge dollar sign on it because it was stolen from a bank. Anyway, he pulls out a handful and tosses it into the front row, as if to say, 'when I'm rhyming about being rich, I really mean it. I'm really rich and I'm getting paid so much for this show, that it's no problem.'
I must admit some of my favorite Paul Barman rhymes are about your sexual conquests.
Don't worry, it's not gone. Everyone can relate to sex and everyone loves honest sex and that's my real answer to the 'jizz flying.' My girlfriend encourages me to do sex songs, by the way.
What do you think of Jewish women?
I think Israeli women—and this is a relatively new discovery—could be the hottest women on earth, and the only reason I didn't know this before is because I didn't know any. And the more people I ask, there's basically universal agreement on that. Let me tell you, I never had a Jewish girlfriend before and dating my girlfriend has made me think about Judaism in a new way. Lots of other things have made me think about it in a new way. For example, when I was getting lots of press, the fact that no one could get over the fact that I was Jewish. The Beastie Boys were Jewish, fucking fifteen years ago! Is this news? This is not news. [The photographer's cell phone rings. By some strange stroke of luck, it's fellow rapper Sir Menelik, aka Scaramanga. As soon as Paul hears who it is, he grabs for the phone.] Sir Menelik, you gonna be on my next record? [He starts singing something about 'hoochie mama robots.'] How's it going, Sir Menelik? My name is MC Paul Barman…Of course, of course…um, yeah trying to put it together right away…okay, well, why don't I send you a record or something…okay. [He scribbles down an address.] Gotcha…know who I met yesterday? Rah Digga. She's so hot! Oh my goodness! I figured she'd be like eight feet tall with broad shoulders. She's just really a hot woman. Ow!..A pleasure to make your acquaintance, Sir Menelik. I'm gonna give you your man… peace! [Paul hands the phone back to the photographer and looks at the clock on the wall.] I'm sorry, I'm going to have to end the interview. I have to go meet my dad.
Paul Barman's album, All Things Considered, drops in March 2002 from Coup de Tat.

What do you think?