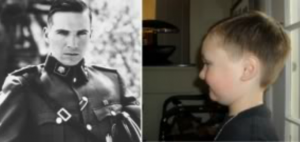 The four-year-old son of Blossom's Mayim Bialik, Miles Roosevelt Bialik Stone, got a haircut yesterday on account of a photo he saw a few weeks ago — of Ralph Fiennes from Schindler's List. "I want that haircut!" he told his parents.
"We didn't really know what to say," Mayim said. "We told him that was [a photo of] an actor playing someone who helped Hitler and was a really bad man. He knows that Hitler was bad and hated Jews, but, nonetheless, wanted that old-fashioned soldier haircut."
Reluctantly, Mayim's hubby took the boy to the barbershop and with the Nazi photograph in tow. (Naturally, the swastikas were cropped out.) "It went fine," Mayim said, "until, after his haircut, Miles apparently announced to the barbershop, 'My last haircut was like Superman, and this one is Hitler!'"
Related Posts:
Blossom's Mayim Bialik Fears for Growing Pains Actor
The Germany Issue: Jenna von Oy Grows up
What do you think?