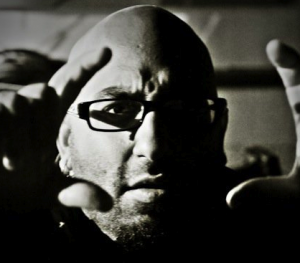 Supreme Court Justice William Brennan famously defined pornography with the now-famous quip: "I know it when I see it." Lord knows what he would've made of the work of parodist Lee Roy Myers whose creative output seems to resist classification.
Take for instance the scene in his recent Katy Perry spoof, Katy Pervy, in which the famously-titted, titular character (played by Kimberly Kane, a dead ringer for the 27-year old pop star) turns herself around mid-coitus to tell "Elmer" (Anthony Rosano in a ridiculous, furry suit in the same shade of red as Sesame Street's Elmo) to enjoy the view. Elmer's high-pitched response? "I hate that show."
Too shticky to be porn, yet too raunchy to be mainstream, Myers is trailblazing a new pathway for adult entertainment—call it slapstick pornography if you're so inclined.
"I have a surreal job: a mainstream sensibility in a non-mainstream universe," says the 34-year native of Montreal. Myers takes his nom de plume from an African-American tap dancer, thereby continuing a time-honored tradition of Jews stealing black acts. When it comes to his work, he takes expansive view, seeing parody as a widespread contemporary impulse apt to surface in strange places, rather than a specific cordoned-off genre. "If you think about it, even Debbie Does Dallas was a parody," says Myers. "Though they never said it, they were referencing the public's fascination with the Dallas Cowboys Cheerleaders during the 1970's."
With so much available to parody and so little time, Myers finds himself drawn to titles with cult followings. He calls his Big Lebowski, Simpsons and Tron parodies his personal favorites and is particularly amped about having recently "sexed-up" Nightmare on Elm Street, Family Guy and Romeo & Juliet. One might wonder whether Myers' raunchy homages would offend diehard fans of the original source material. Don't Seinfeld fans feel like hallowed ground is being sullied when, for example, "Porn Nazi" (Evan Stone) barks "No porn for you!" to Elaine (Kristina Rose) when she asks the location of the "Asian, tranny, lesbian, gangbang" section of the store? More often than not (or at least enough for Myers to make what he calls "a good living") that's not the case. When Myers "pornifies" original material, somehow that material seems to gain an additional glow —the way an insult at a celebrity roast somehow manages to paradoxically elevate its target.
But Myers— along with fellow porn parodists Will Ryder, Axel Braun, Mike Quasar and Joanna Angel —are not just the vanguard of the latest smut craze—they are connections to a lost world. Their films have the flavor of the raucous, burlesque that was 1970's porn more than they do the drab wham-bam-thank-you-ma'am feel of the gonzo 90's and 00's, which was ushered in by the DVD era and the Internet. In this light, the parody porn movement is more of a rebellion against factory farm/assembly line porn than it is about dumbing down/undermining mainstream narratives. Moronic titles not withstanding, the porn parodists are actually trying to elevate a conversation, not drag it down.
And that conversation extends into the realm of publicity where Myers also stands head and shoulders above the rest. The safe-for-work version of his Simpsons porn parody got 3 million hits in its first week on Youtube and Zack Braff brought Myers' Scrubs parody with him during an appearance on Jimmy Kimmel Live.
Myers doesn't resent the marketing aspect of his job and isn't averse to peddling his own links. "The fact that I've taken something that doesn't seem like it should be a porn and made it one, makes it more fun. I like the shock and awe before it comes out."
Myers, who recently celebrated his two-year anniversary with his wife, is circumspect about his status as an artist, "Porn isn't art—it's exploitation," he tells me. But perhaps he's erring on the side of modesty. Porn may not be art, but the slapstick elements in his work, from tiny jokes like Charlotte dating "Harry Shlomo Goldenblatt" in the Sex and the City sendup to the decision to turn The Golden Girls into a MILF parody "pay off" in ways other than merely the sexual.
In a strange way, the line between the pornographic and the mainstream has never been murkier. As mainstream films try to squeeze in as much sex as they can without suffering too many repercussions with the ratings boards, porn is trying to squeeze in as much humor without suffering too many repercussions with consumers. Even porn's impulse to re-visit mainstream classics reflects today's mainstream impulse to re-visit pre-existing properties. In fact, the mainstream world may be cannibalizing itself in even less artful ways than the porn world. You tell me which sounds more derivative: Seinfeld XXX or Battleship?
For more info on Lee Roy Myers' films, go to Goodnightmovies.com.
What do you think?