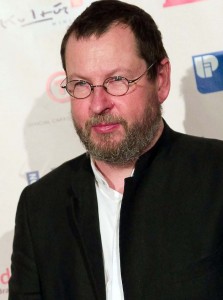 Just to set the record straight, our original title was "Trier Fuck," but while it works visually, Jewdar's punctilious dedication to the proper pronunciation of German dipthongs prevented us from that particularly dazzling bit of wordplay.
We can't say that we are familiar with Danish director Lars von Trier's work, and probably wouldn't get it if we were (if we understand correctly, for a Dane, his oeuvre is strangely devoid of pastry, interlocking toys, or Scarlett Johannsen). But we do know an awful lot about Holocaust humor, and thus, our heart goes out to him for his admittedly crappy and unfunny attempts at cracking the genre, which apparently has gotten him banned at Cannes.
It was a a joke, people.  We know that the film festival has high moral standards, so we have some advice for von Trier–if you want to get back in the good graces of the festival organizers, why don't you come to the US, commit rape, and then flee the country? Not only will you be welcomed to Cannes, you'll be treated like royalty.  Actually scratch that–considering his recent foray in the world of stand-up, von Trier might not get that we were joking,and we'd hate to be charged as an accomplice.
What do you think?