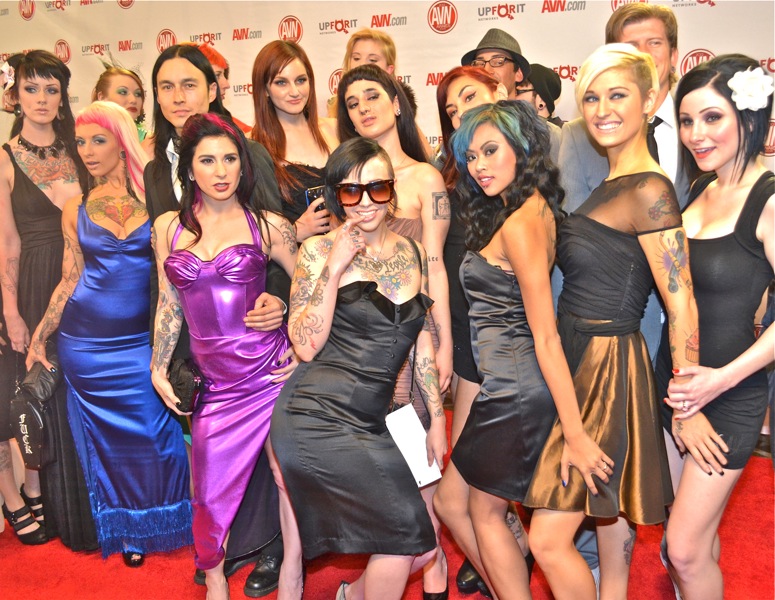 Thousands flocked to the Hard Rock Hotel in Las Vegas last week to attend the annual AVN Awards and Adult Entertainment Expo. Designated the "Oscars of Adult" by Entertainment Weekly, the trade show attracts fans and industry professionals alike to test out new toys and take photographs with stars. Climaxing at the end of the week with the Awards Show, stars grace the red carpet vying for recognition in categories like Most Outrageous Sex Scene and Best New Scarlett.
Before the Awards, I caught up with Joanna Angel (pictured above in purple), this year's event ribbon cutter, founder of the Burning Angel dynasty, and longtime friend of Heeb. Angel, 31, is a five-foot New Jersey Jewess with black hair and tattoos. Featured in the "Heeb 100" and on the cover of the Spring 2005 Photo Issue, Angel continues to dominate the Adult Entertainment scene. Nominated this year for multiple awards including Best Director, Best Screen Play, Double Penetration, and Best Group Sex.
What's special about the AVNs this year?
It's cool and it's completely different. They've changed the entire format and some people are a little bummed because people in general don't like change. I think it's a little smaller, but it's not a bad thing. The Hard Rock feels younger and is more of a party vibe. It's smaller and has better energy.
What demographic do you attract?
BurningAngel.com features girls who do not exactly match what was typically known as the porn star in the 90s: a tattooed girl, a different look or style–a rock and roll badass. The look is part of it and a big part of alt-porn is the community. On the site there are band interviews, the girls have blogs, there are chat rooms, the girls talk to each other and the members. We're more popular in big cities than we are in middle-of-nowhere places. It's not just young tattooed people. We have a lot of straight-laced middle-aged couples that like our stuff. We did a legit survey and it seems that most of our fans are college-educated, come from busier cities, a lot of couples, but we have all types of fans.
How did you initially get involved in the porn industry?
Well, I am Jewish so I have entrepreneurial blood. I started a porn site with my Jewish roommate in college on a whim and it became what it is today.
What was your Jewish upbringing and how did it influence your profession?
I don't know if my background influenced me doing porn. I think my mom would be really upset if she thought raising me Jewish was what caused me to do porn. I grew up in a really traditional Jewish household. We went to temple every Friday night and Saturday morning. Judaism is a really big part of my family life.
Sex was always a touchy subject. I didn't learn about sex from my parents and I've always been a little bit rebellious. My family has always encouraged me to be very hardworking. I think that being a hard worker is something that is instilled in many Jews. I don't think my religious upbringing has been something that has helped me make it on camera, it's more the hardworking, discipline and strive to be your best and that's what inspired me to run my business the way I do.
Why are there so few Jews on camera in the sex industry?
A lot of us are really funny looking. Not many Jews are super models either.
If you could have sex with anyone, who would it be?
I've had sex with a lot of people, which I'm very thankful for. But do I have a wish list? Katie Perry, at the moment. I would also like to hang out with Paul Rudd. I don't know if I really want to have sex with him, but I have a little crush on him. I wouldn't want to just show up and have sex with him. I want to go on a date with him. My crush on Paul Rudd is very serious and it goes beyond sex. I just want to have sex with Katie Perry. She doesn't need to take me on a date. We could just get straight to business.
What's your favorite kind of scene to film?
I'm really not saying this to try to shock anyone, but my favorite thing to shoot is gangbangs. I love being in the middle of a gangbang and I actually did a Hannukkah gangbang where I had sex with eight guys for eight nights. That one was really special. I had the guys stand like a menorah. The tallest guy was in the middle and they were supposed to be my gifts for Hannukkah. It'll come out on DVD later this year.
What do you think?