Welcome to Is It Jewish? – Our regular series in which writer Katie Schwartz assess the relative semitic value of…everything. You name it, she'll tell you whether it's Jewish or not. So let's get right to this week's installment with…:
Let's pretend the love of my life was a "clever" tchochkie for my trailer hitch on my fuel omnivorous Ram 3500 Chassis Cab Charger. Say I scoured the Internet in the hopes of quenching my appetite for the perfect tchoch. After 48 hours, my eyes were sanguine and I developed stage III fingertip-rash. Wearied to the nucleus of my soul, finally, I discovered the penultimate trailer hitch, HITCH HANDS. Though deflated by the peace sign, after seeing the hitch symbol "thumb," my heart climaxed, bursting into a 4th of July fireworks finale of palpitations.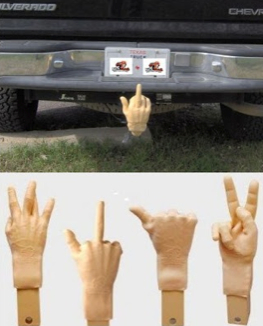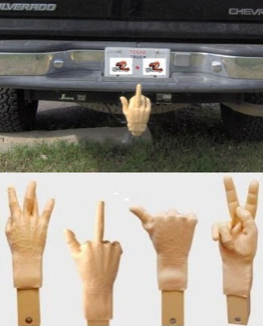 If that doesn't make you want to lavish your testicles in a syphilis laden Petri dish or meander 'vagina' first over scalding coals, perhaps hitch critters; Joe's Shangri-la for all things mangy, will; beginning with a deer that has a target on its chest. Still not invigorated? Perhaps a sea bass deep-throating your hitch or a bull giving you the finger will galvanize your focus.
Don't panic, filthy, often sexist clichés are still the rage at Custom Dirty Hitch Covers.
Of course, the visionary behind this gem thinks they created the slogan.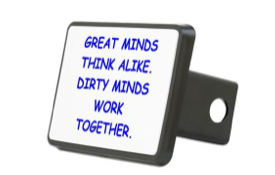 "19 Kids and Counting" knocked that off the list.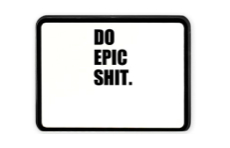 IS IT JEWISH?
THE CASE FOR:
Of the 70,940 Ford Trucks and 42,342 Dodge Rams bought in March 2014, feasibly kosher farmers put a mild dent in new orders. Our people farm, Kosher Farm to Table. (Who knew?! The uneducated schmuck writing this column!)
THE CASE AGAINST:
Show me a Midwestern farmer, and I'll show you a Cross on his or her chest so big, Jesus could schlep up and hang for a spell. Farming, casseroles, church, teen marriages and venerable trade school graduates were born to own trailer hitch covers.
VERDICT:
Trailer hitch covers are intensely and proudly goyish.
*****
Ah, sporks, the ginger kid of cutlery. Cheap plastic found in cafeterias across America that serves an enviable cancer-is-coming-for-you aftertaste.
(I think a little piece of me died while reading and writing the above.)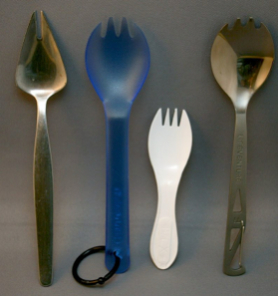 IS IT JEWISH?
THE CASE FOR:
A few sporks are hip and sleek; envisioning them in high tech campus eateries or "fast casual restaurants" isn't a stretch. (Fast casual is positively the dumbass-iest, most contrived descriptor for fast food I've ever heard.) As an aunt with 2-year-old nephews, I'd rather they not stab their eyeballs out with a fork. While perusing the offerings at an upscale buffet for a vexatious wedding, the bride and groom would hock their friends and family to embrace the pointy Spork (on the far left), convincing them their caterer, Amelia Vivian Bianca Marcella Von Bugelsnatcher III assured them this piece of cutlery was trending at the finest of weddings.
THE CASE AGAINST:
Plastic sporks for truck owning rednecks in the south during an outdoor wedding, (and by outdoor, I mean their trailer park) while dressed in ultra chic camouflage gowns and suits seems logical. Conversely, the luxurious Spork on the far right is an idyllic piece of cutlery for a BBQ in Martha's Vineyard during a summer opening of one's home. Parents with toddlers find equal appeal in a Spork for their kids.
VERDICT:
The Spork is Jewish.
*****
GoGirl, stop taking life sitting down! That's the slogan. Watch the video here.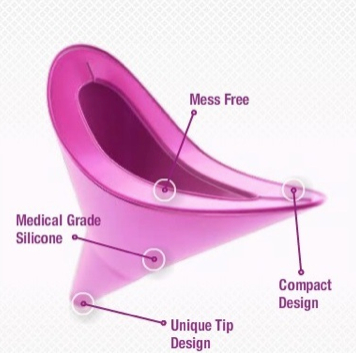 "Simply put, GoGirl is the way to stand up to crowded, disgusting, distant or non-existent bathrooms. It's a female urination device (sometimes called a FUD) that allows you to urinate while standing up. It's neat. It's discreet. It's hygienic."
Wow, neat, discreet and hygienic?! My vulva lips are twitching faster than country crickets during mating season. Speaking of, female crickets lead the charge by mounting male crickets of their choosing.
The phrase, stand up to crowded, disgusting, distant or non-existent bathrooms feels like a urine revolution in the making or like Sport Peeing, a new winter Olympic addition. Until Gloria Steinem adds her vaginal seal of approval, I just can't spread for GoGirl.
If you want to see GoGirl in action, watch this girl pee… in French:
[Editor's note: Warning. This is pretty gross. I mean, it's peeing. Plus, there's a terrible reggae version of Nancy Sinatra's "Bang Bang" playing in the background, which doesn't help things. Watch at your own discretion]
IS IT JEWISH?
THE CASE FOR:
I can see Jewy feminists that buy recyclable maxi pads to, you know; bleed with pride, stand at the altar of GoGirl. (Evidently, I should be doused in shame for buying disposable pads. Don't worry, I am.) GoGirl reeks of penis envy. So, there's that. Surely it's a hit with germaphobes.
THE CASE AGAINST:
Non-Jewish broads with a penchant for embracing the song, "Anything you can do, I can do better," would challenge their male counterparts in every way, from peeing contests to sports, work, concerts and more. Lapsed Catholic feminists and atheists would be correspondingly rabid for GoGirl. Believe it or not, mini-van driving moms from Montana with no time would latch onto this faster than a 60 second orgasm.
VERDICT:
GoGirl is religious neutral.
[cover image via]
What do you think?