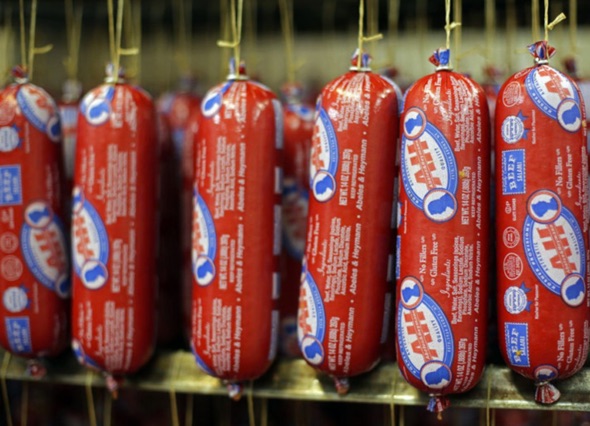 Houston, TX, is still in the early stages of recovery after Hurricane Harvey ripped through coastal Texas, killing dozens and leaving tens of thousands more homeless. To put it mildly, Houston is a city that's hurting.
But if there's one thing that helps heal all wounds, it's meat. Large chunks of salty, kosher meat.
Enter Seth Leavitt, CEO of Abeles & Heymann and purveyor of "kosher deli provisions."
Leavitt is the brains behind the (only semi-self serving) "Send a Kosher Salami to Houston" campaign, which is raising funds to, yes, bombard Houston with thousands and thousands of kosher salamis—one for each sold by A&H.
"Our goal is to raise $15,360 by September 14th," Leavitt explained. "In just two weeks we plan to ship 3,072 (That amount is equal to two full pallets), of kosher salami to the kosher community of Houston just in time for the Jewish New Year."
While I imagine the Jewish community of Houston is probably in need of things like "houses" and "dry clothes," salami is certainly good too. And, to date, Leavitt's campaign has raised nearly a third of its goal.
"There is still time to purchase a salami if you have not done so already," Leavitt wrote in an online update. "All it takes is 1 minute and ten dollars. We will match your purchase."
So, give a salami, get a salami. Seems like a pretty good deal. And feel free to send some spicy mustard along, too.
What do you think?