Already feeling cold and lonely this winter? Tired of eating greasy Chinese food? Ditch your ordinary plans and heat up at HEEBONISM this Xmas Eve! Tauted by the Travel Channel as 'one of the largest, glitziest, rowdiest and most untamed shindigs in the world', Heeb's annual Christmas Eve bash returns this year with a world music spin. Co-hosted with Shemspeed as part of the 7th Annual Sephardic Music Festival the event features music from Diwon and guests. Read more about the festival in the New York Times.
Sponsored by FlatRate Moving.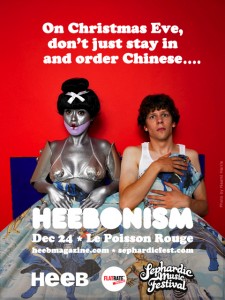 HEEBONISM featuring Diwon and guests
December 24th @10:30pm
Update:
We have just added a slew of new performers and special guests to this year's HEEBONISM, including Tesly Snipes, the world famous Brooklyn based DJ, JahFurry, Heeb writing reggae dittyer, Y-Love, the revolutionary emcee and Tj Di Hitmaker, the Jamaican dancehall Jersey bwoy.
Tickets: $15 in advance. $20 at the door.
Purchase tickets here.
(Le) Poisson Rouge
158 Bleecker Street (between Thompson and Sullivan)
Take the A,C,E or B,D,F,M to West 4th Street; Exit at West 3rd Street and walk west toward MacDougal; make 1st right on MacDougal; Make 1st left on Bleecker Street. (Le) Poisson Rouge is on the south side of Bleecker Street.
What do you think?