There was never a warning more certain to backfire than the one issued by the Football Association (FA) to Tottenham Hotspur supporters last week.
The FA, English soccer's governing body, was fed up – fed up! – with Tottenham fans using the term "Yid" in their songs and chants during games, and warned them that any continuing use of the word could result in criminal charges.
What those criminal charges would be, and how exactly police intended to simultaneously arrest thousands of singing fans during a soccer game, wasn't exactly clear.
Guess what? The warning didn't work.
During Tottenham's home game against Norwich City on Saturday, the chants rained down from the terraces of White Hart Lane.
 We're Tottenham Hotspur, we sing what we want!
 Yid Army! Yid Army! Yid Army!
 Yiddos! Yiddos! Yiddos!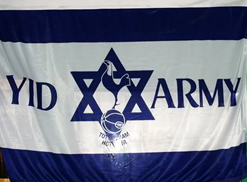 To be fair, it's not like the FA had the wrong idea when issuing its warning. The term "Yid" has been used as an epithet against Jews for more than 100 years, and Tottenham's continuing identification with the word has caused numerous problems just over the past year alone.
The problem is, Tottenham's fans are the Yid Army. They just are, and they always will be, and no FA decree or threat of arrest is going to change that simple fact. Even though most of them aren't even, well, Yids.
Tottenham Hospur (or just Spurs) has been known as England's "Jewish club" since the early 20th century, but the story of just how that happened is rather nebulous. The club is located in North London, home to a large Orthodox population, but most black hatters don't have time for soccer, and there is little evidence of the club having any sort of Orthodox following.
Instead, according to club folklore, the actual reason behind the team's Jewish identification has to do with public transportation, including London's now-defunct electric tram system.
In the early 20th century, much of London's Jewish population lived in the East End, and Tottenham's stadium White Hart Lane was easily accessible from that area via tram or bus. Therefore, it became a Sabbath tradition to take the tram or the bus up the A10 to Tottenham matches, cementing the club as "God's chosen team."
Today, the club's supporters continue to cling onto their status as the Yid Army, and use the term with pride, despite the fact that most of them aren't even Jewish. The UK is only about point-five percent Jewish, and it's been estimated that only five to 10 percent of Tottenham's supporters are actually Jews. In fact, the team's arch-rival Arsenal is said to have a larger percentage of Jewish fans.
Soccer fans in Europe, as you may have heard, can tend to be a nasty bunch, and so a club that so closely identities itself with a religion – especially one that's been targeted as frequently as Judaism – can be setting itself up for trouble.
And trouble has indeed found the Yid Army: Just this spring, the team's fans were attacked by a group of Neo-Nazis in Lyon, France. A few months earlier, several Spurs fans were injured after traveling to Rome to see Tottenham in an away match. Their attackers screamed "Jews" before descending upon them with knives and clubs.
Last season, fans of city rival West Ham United (you might remember this delightful bunch from the movie "Green Street Hooligans") engaged in Hitler chants, Nazi salutes and hissing noises to mimic gas chambers during the teams' match.
It should be mentioned the aforementioned fans are an extreme minority (and the French group wasn't affiliated with any team at all), but amidst this backdrop, it's easy to see why the FA would rather the Yid mantra be retired.
But it's probably never going to happen.
Soccer is a tribal sport, and fans are fiercely devoted to their tribes (of Israel or otherwise). The fact that most members of the Yid Army aren't even Jewish is irrelevant; what matters is that they are Tottenham fans. If you support Spurs, you can be baptized, read the Qur'an, worship Ganesha, or be an atheist. At the end of the day, you're a still a Yid.
There's not much the FA, or any hooligans can do about that. The Yid Army will just keep on singing.
What do you think?