San Francisco is filled with drag queens, but only one lip-synched the Shehechiyanu at her very own Bat Mitzvah. For her 26th birthday – a full 13 years after she "became a man" – Lil Miss Hot Mess officially became a lady with a campy, gender-bending blowout. Though there wasn't much Torah reading this time around, the party did have booze and glitter galore. Besides, it was a good excuse to dress up like Fran Drescher.
Let's start with your first time on the bima. What was your 13-year-old Bar Mitzvah like?
Well, my Bar Mitzvah was actually kind of scaled down because it wasn't as big as they probably are in Long Island or Jersey. Some of the other ones in my town were big and over the top because my temple was definitely upper-middle class. But I remember my mom really wanted me to have a smaller thing. So I actually read Torah on Friday night, and then we just had a party right afterwards at the temple. My mom always joked about how I didn't have a theme — my theme was Judaism.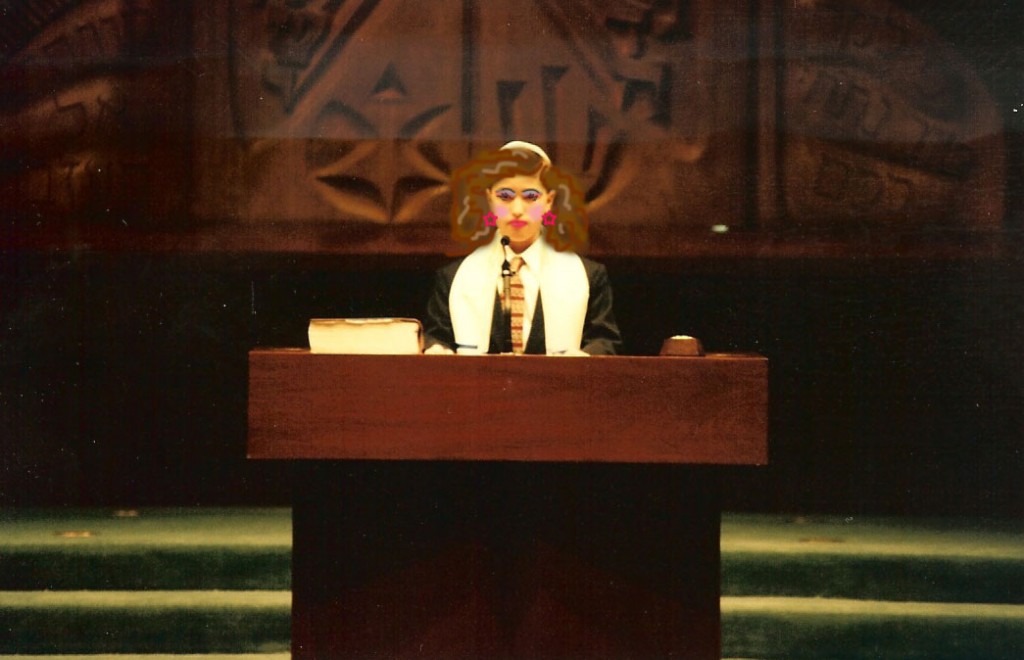 At the Bar Mitzvah, 13 years ago. Photoshop makeover added by Lil Miss Hot Mess.
How gay were you back then?
I think my flame has always burned a little brighter, you know. But I was pretty clueless. I was just really dorky. In 7th grade when I had my Bar Mitzvah, I wore boys' size 10 husky pants, but I was also into musical theater and that was clearly a sign. I was into The Wizard of Oz, so I got a lot of Oz-themed Bar Mitzvah gifts, including snow globes from the Franklin Mint that my mom just reminded are sitting in her house.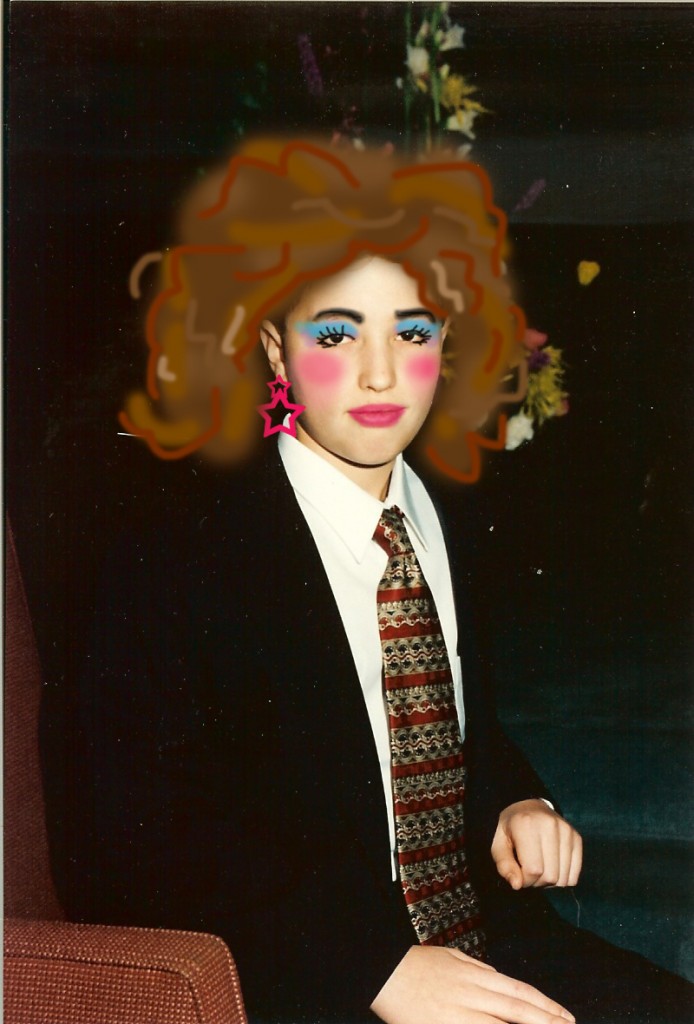 "I was always gay to anyone who would have payed enough attention," says Lil Miss Hot Mess.
That covers your Bar Mitzvah. At 26, you became a lady at Lil Miss Hot Mess's Bat Mitzvah-slash-birthday party. Tell us about how she came to be.
I first started performing as Lil Miss Hot Mess about two years ago at Trannyshack [a drag queen event series in San Francisco]. I sort of always wanted to do drag. I did musical theater in high school and when I moved to the Bay Area, I did a gay re-telling of Harry Potter. That was really fun and connected me to drag kings. I played a boy in that one, but I started to meet people who were doing it.
The name Lil Miss Hot Mess was given to me years ago, after being really drunk and saying embarrassing things at a party. So I guess I've technically been Lil Miss Hot Mess for a while.
Looking back, how did your Bar Mitzvah and Bat Mitzvah compare?
I probably had more fun at this recent one. There wasn't really anything religious or ceremonial about it, in the traditional way. I was thinking for a while about the possibility of actually reading Torah so the party wouldn't be totally sacrilegious, but I dropped that. I thought it would be too weird to contact a synagogue in the area and give them my explanation for why I needed to borrow a Torah.
At the beginning of the party there was a show, and I came out of a cake and played a recording of the Shehechiyanu and lip synched and held up a Torah. I felt like Shehechiyanu was short and to the point. Then we did the horah and people sort of got into that. Some boys threw me up into a chair, things like that. And before it turned into a dance party, I did the Kiddush just for good times. Although some people have commented to me that there was a ritual aspect to it, that wasn't conscious. But I'm glad that if people were interested in that, they were able to find it. It wasn't supposed to be super deep, just a drag queen's 26th birthday.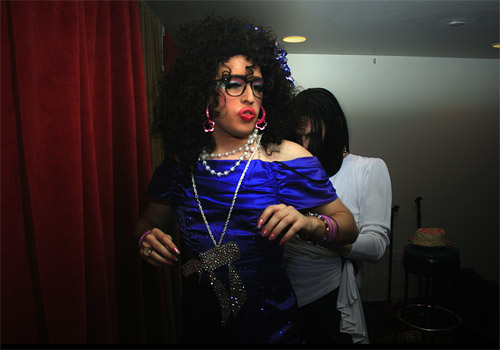 The second time around, the Bat Mitzvah girl dressed in "gaudy grandma" style, complete with giant Chai necklace.
The suggested attire for the night was "Synagogue Chic." Who are your Jewish style icons?
Basically, I was just thinking Fran Drescher in The Nanny. But "geographically and temporally Queens, Long Island, or New Jersey circa 1994-98" was just the cutest way I could think of saying it. It's over-the-top gaudy, either too sexy for synagogue or gaudy grandma: velour, sequins, beaded work. My grandmother has all that kind of Golden Girls-esque patterned stuff. People definitely got into it.
To see the official Bat Mitzvah video and find out more about Lil Miss Hot Mess, visit her website.
Related posts:
"Rabba" Sara Hurwitz Rocks the Orthodox
The Golden Shower Girls Return with "Post Op Life"
Jem Spoof Artist Releases Abortion Episode, Remains Anonymous
What do you think?