A few months back, we stumbled upon what was, at the time, the most epic Jewish craigslist ad we'd ever seen: Seven (presumably) fresh-faced (presumably) Jewish (presumably) guys harnessing the power of the internet to meet seven semitic ladies, and have them over for a nice shabbat dinner. Here's a snippet:
Shalom! We are five handsome and two not so handsome single men. And, yes, we are Jewish. Bound by tradition and emboldened by wit, we are hosting an epic Shabbat dinner — a little challah, a little wine, and a lot of gefilte fish — in downtown Washington, DC on Friday, January 18, 2013. In a nod to our orgiastic traditions, we are inviting seven lucky ladies to feast with us.
Charming. But watch out guys, you've got some competition: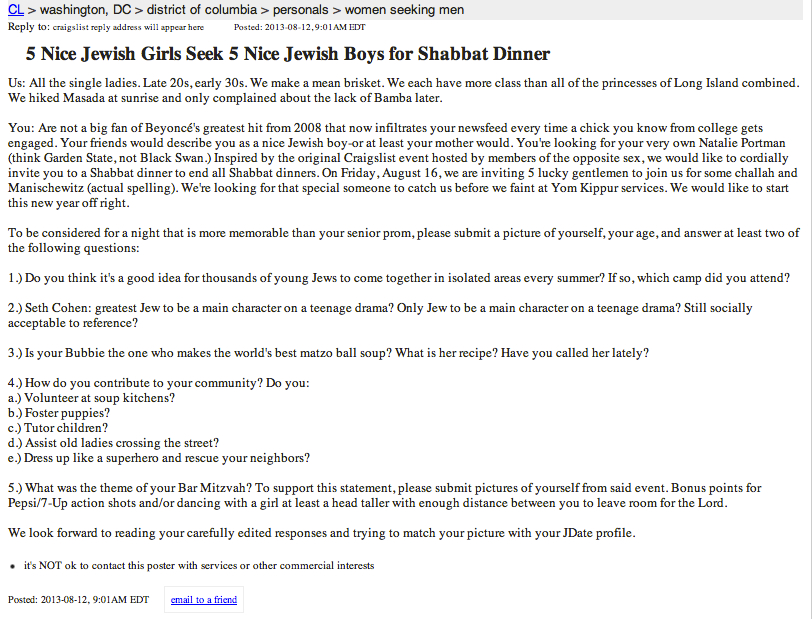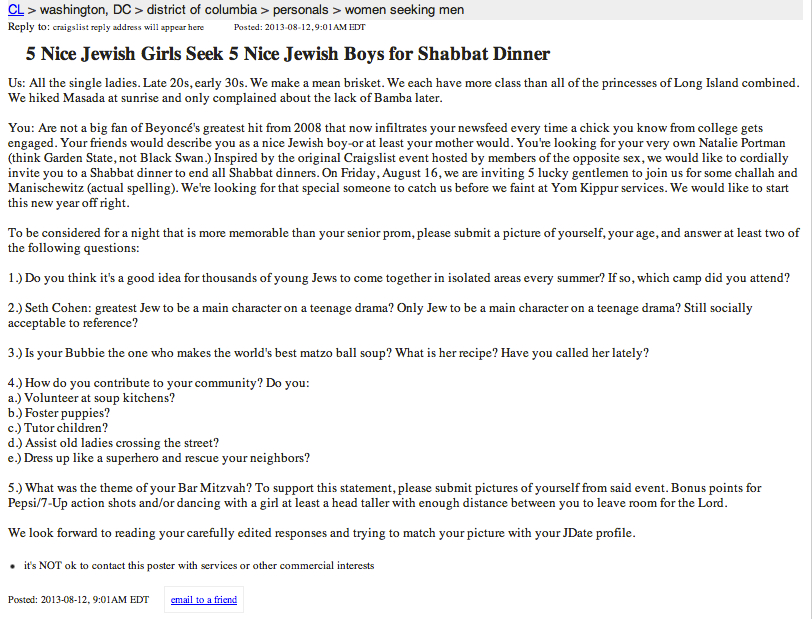 Admittedly inspired by the original epic ad, these ladies are in it to win it: Beyoncé, Seth Cohen, Matzo ball soup – they're hittin' all those  feel-good buttons for a specific subset of Jewish guys; Ones with strong opinions about 2008 Beyoncé and Seth Cohen. Want to know more? Feel free to email shabbatwithnatalieportman@gmail.com, at your discretion.
Still, Craigslist ladies, aren't you better off simply combining forces with the original Craigslist guys? Five of you, Five (handsome ones) of them. Path of least resistance. And the two not-so-handsome ones? They can call their bubbies.
[h/t Natalie,  Holly]
What do you think?