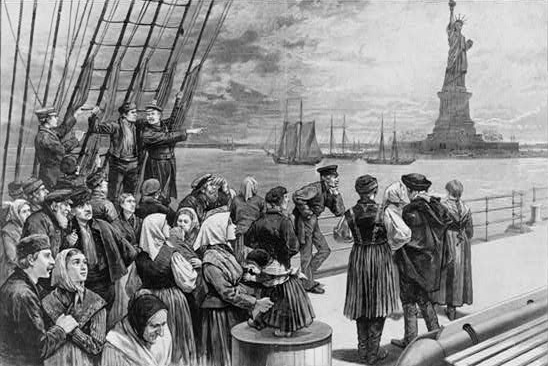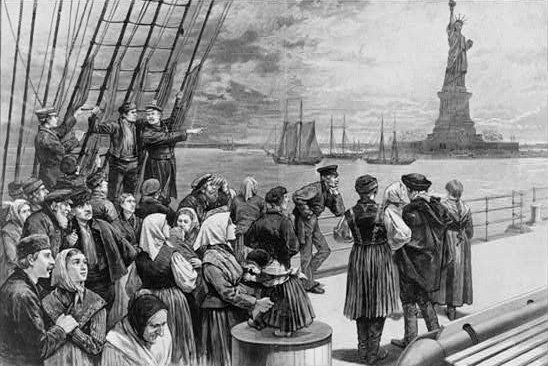 It's safe to say that very few of us (Jews, sure, but really any of America's immigrant descendants) share the same name our ancestors brought with them when they traveled to this country. But while "Greenberg" may have morphed into the more genteel (and gentile) "Greene," and "Abromovitz" to the country-club acceptable "Abrams," that change probably didn't happen where you think it did. The myth of families being assigned Americanized names at Ellis Island, it turns out, is just that: A myth.
As Mental Floss, citing the NYPL's Philip Sutton, explains:
…The inspectors at Ellis Island "did not create records of immigration; rather they checked the names of the people moving through Ellis Island against those recorded in the ship's passenger list, or manifest." No names were changed at Ellis Island, because no names were taken at Ellis Island.

[…]

According to this article at U.S. Citizenship and Immigration Services, the Ellis Island immigrant inspectors all "spoke an average of three languages. They were assigned to inspect immigrant groups based on the languages they spoke. If the inspector could not communicate, Ellis Island employed a full-time army of interpreters and would call in temporary interpreters under contract to translate for immigrants speaking the most obscure tongues."
"Then where – " you're probably wondering " – was my family's name changed?"
It turns out, pretty much everywhere else. Surnames were garbled at nearly every point along an immigrant's journey to the US: From a screw up on the passenger manifest at their port of departure, to misspelled citizenship paperwork after having made it safely into the U.S. proper. And, of course, many families voluntarily modified their old world names to better adapt to life in the United States. It seems, in fact, as if Ellis Island was pretty much the only place at which an immigrant's name wouldn't be changed. Save, that is, for one instance, which Sutton describes:
A search of historical newspapers using the ProQuest Historical Database produces only one story about name changes written during the time that Ellis Island was in operation.

Leonard Lyon's entertainment column Broadway Potpourri, in the Washington Post of April 10th, 1944, states that Harry Zarief, "the assistant concert master for Morton Gould," and famously a father of quadruplets, had recently changed his name back from Friedman.

Friedman. His name originally was Zarief, but when his family arrived at Ellis Island the immigration inspector told him that Zarief was too complicated, and recorded his name as "Friedman." Many years later the "Friedman" was changed back to the original Zarief. (p.9)
So, unless your last name is "Zarief," you should probably stop telling people your family's name was changed at Ellis Island. You sound like you're fresh off the boat.
What do you think?