As contestant Dave Warshaw so perfectly demonstrated on season two of FOX's So You Think You Can Dance – Jews and breakdancing are, at best, a volatile mix.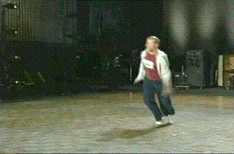 Grievous bodily hard, and the risk of looking immensely silly aside, octogenarian broadcast legend Larry King decided to try his hand at breaking – specifically, popping and locking –  while interviewing dancer and Black-ish star Miles "Baby Boogaloo" Brown, during a taping of his Ora TV talk show.
The results are, well…
"Wow! Feels good. It's like an exercise"
Goodbye breakdancing. You had a good run, but you're over now. I'm just sorry it had to end like this.
[cover via youtube/screenshot]
What do you think?