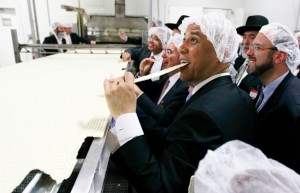 Newark's Mayor Cory Booker took some time Tuesday to shtetl it up with the elders of Zion at the new world headquarters of matzo Goliath Manischewitz.
We're not really plugged in enough to speculate what kind of tax breaks or under the bimah real estate deal Manischewitz finagled from Mayor Booker to build in Booker's backyard, but we are sure that somehow the details will play into the 2016 presidential election.
Since we're not going to wait for a congressional panel to ask then presidential hopeful Booker what he was thinking when he cut that shady deal with the matzo mafia back in 2011, we'll at least speculate for now about WTF he was thinking as he chomped down on what we believe is the biggest piece of matzo ever made.
And yeah. Shtettling is the new slumming.
"Step one in Newark regeneration – 'Operation bring in more prominent crackers' — complete."
"OK. What did Shmuley Boteach teach me me at Oxford Hillel? Right. Just put the tip of the matzo in my mouth, get it nice and wet. Don't bite too hard. And if you're not going to swallow the matzo, spit it out discretely in your left hand."
"Dude on my right says he is into matzo-lingus."
"The Giants, The Jets, and now Manischewitz — what won't New Jersey steal from New York? The Nets? Fuck the Nets."
"There aren't enough Jewish voters in Newark to justify this."
"Portnoy had the wrong Goddamn complaint."
"Good luck hiding that afikomen, bitches."
"Finally, a cracker bigger than Newt Gingrich."
"Thank God this isn't the world's biggest piece of gefilte fish."
Things Cory Booker regrets saying to Mark Zuckerberg: "If you give me $100 million of that Facebook money, I'd fucking eat the world's biggest piece of Matzo."
Let us know what you think he's thinking. If we think you beat us, send us your address and social security number, and we'll send you a box of matzo that we will swear Booker blessed.
What do you think?