Now that 5771 has come to a close, we are still looking back at the year that was. Here is the best television of the year.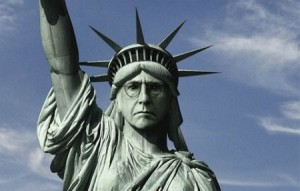 Admit it: When Curb premiered eight seasons ago, you felt a little like a historical revisionist—all of a sudden, Larry David looked like the real genius behind Seinfeld. The ostensibly likable Jerry, making middlebrow observations about socks that disappeared in the laundry, was riding on the coattails of David's bilious tones and narrative legerdemain, it seemed. David had always seemed like the duo's John Lennon, but over the course of the past eight years of Curb (as well as one ill-fated Bee Movie), Jerry went from being its Paul McCartney to Ringo Starr—until now.
If ever there has been a television show to find its voice in its latter years, it is Curb, which returned this year after a two-year hiatus. Whether David's character is showing a Girl Scout how to use a tampon, singing the praises of Palestinian chicken, uncovering a repressed memory inside a Mr. Softee truck, or re-visiting the storied screw-up of Bill Buckner, Season Eight has been an unmitigated comic bonanza.  And as such, for the first time, has been reverberating with the same cultural force that Seinfeld did over a decade ago. What gets overlooked, however, is that it took David moving back to Seinfeld's old neighborhood to achieve this resonance. Perhaps the key to unlocking the innermost David—as well as Jerry Seinfeld—was that inscrutable foil, New York City.
1. Curb Your Enthusiasm, Season Eight
2. Children's Hospital
3. Jersey Shore
4. Louie
5. The Real Housewives of Beverly Hills
6. The Walking Dead
7. Svetlana
8. Delocated
9. The 2011 Broadcast of the Golden Globes
10. South Park
What do you think?