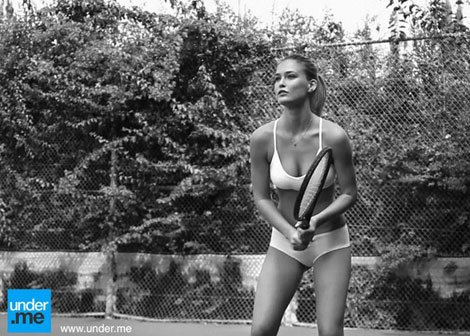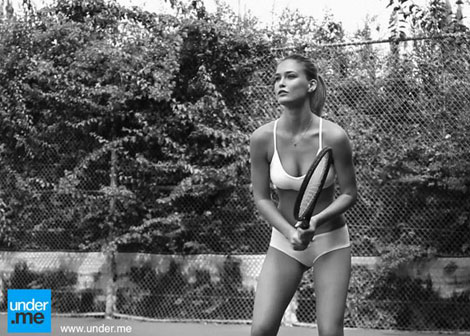 If you're looking for your daily dose of naked Israelis, you have come to the right place! Heeb covergirl and Leonardo DiCaprio's ex-girlfriend Bar Refaeli is stripping down for a good cause: trying to get you to buy her new underwear line!
In two new commercials, Refaeli promotes her new under.me underwear collection, which has both a men's and women's line. In the women's commercial, Refaeli knocks around a tennis ball while someone sings in the background "If you're feeling under pressure, these pants will keep you fresher." Gross and catchy!
In the other clip, Bar makes every straight man's dream come true by lounging around in her men's collection underthings, looking sexy in a black v-neck and doing manly things like smoking cigars, mowing the lawn, playing video games and using a baseball bat to stretch with. She also spends quite some time strutting around naked (with nipples and snatch carefully hidden, of course). Ever the level-headed businesswoman, Bar Refaeli knows her audience.
Of her new collection, Refaeli says, "My underwear is the clothing article closest to my body, and as such, I want it to complement it and not steal the show. There is nothing better than simple, comfortable, quality clothing." There is no worry of your unmentionables stealing the show, Bar. You are the show. You're actually dinner, the show and then drinks afterwards.
Watch the commercials below (the first one may be a little NSFW…at least, if you're a straight man with a low desk):
What do you think?