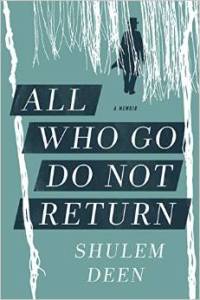 There's an old joke about two Jews stuck on a desert island. They had three synagogues. One that the first Jew attended, one that the second Jew attended, and the one neither would set foot in even if it killed them. But there's Jews, and there's hasidim. And there's hasidim, and then there's New Square, the gated fundamentalist community where attending the wrong synagogue can prove hazardous to your health. Shulem Deen had the privilege of living in New Square, and he celebrated the release of his tell-all memoir about his experiences in, "All Who Go Do Not Return."
This is the newest title in the growing library of memoirs detailing the experiences of formerly-Orthodox and anti-Orthodox writers, including Shalom Auslander, Deborah Feldman, and Leah Vincent.  Is this part of a new haskalah? Will this genre continue to prove interesting to the non-Orthodox?
Joined by Sheri Barclay behind the camera, we asked the crowd at the book signing at BookCourt their opinion of the significance of this book release.
What do you think?