Most know actress Jenette Goldstein as Vasquez, the macho mamacita who brought the thunder with a grenade launcher in James Cameron's classic Aliens. Others may recognize her mug from Kathryn Bigelow's cult vamp flick Near Dark or even in Cameron's Terminator 2 as the foster mother of John Connor (schmeckle boy Eddie Furlong).
These days Goldstein is battling a new enemy–gravity. This spring the actress opened Jenette bras, a brassiere shop in Los Angeles specializing in the overdeveloped. Heeb sat down with the busty proprietress to talk about Hollywood, acting and tits.
How'd you get your start in acting?
I trained at Circle in the Square Theater School in New York and then Webber Douglas Academy of Dramatic Arts in London. I stayed in London and worked in theater for a couple years.
How did you get the role of Vasquez?
Vasquez had already been cast, then the stars aligned and I got the part. I had assumed from the title, Aliens, that the film was about foreigners – resident aliens – so I showed up dressed in regular interview clothes. The day was uncharacteristically hot, so I was wearing a sleeveles blouse. Since I was a struggling actress I had many days free and was spending them at Hyam's Gym on the edge of Hackney. When producer, Gale Ann Hurd saw my arms, which were superb if I do say so myself, she started thinking seriously about using me in a smaller part. Then the gal with the part, who was a born-again Christian, went to the producers and told them she didn't feel right about the character using bad language and wanted them to tone it down. That was it, I got the part. Thank you, Jesus!
Were you ever in a situation where you were supposed to do a nude scene? Have you ever? I imagine if you had we would know about it.
Hell yeah, you would know about it! The Internet never sleeps. It just never came up. I would still do it in the right part. There was a nude role I liked in the Coen Brothers new Jew film that's coming out. Their horror/ farce sensibility seemed like an appropriate vehicle for my middle-aged unveiling, but I didn't get the call. Someone else will have to cope with the dizzy combination of public humiliation and fabulous residuals.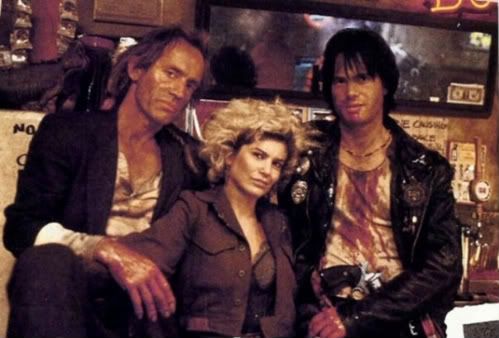 You stay in touch with the rest of King Cameron's usual suspects (Michael Biehn, Bill Paxton, Lance Henriksen)? Or was it not as good a relationship with some of these guys?
You see each other when you see each other. It's the actor's life. We all take our own paths, and it's joyous when they cross. I'll be signing autographs along with Lance Henricksen October 23-25 for Chicago's Horror Convention, Flashback Weekend.
I love being part of the 80s wild boys club. You know, James Cameron put us in boot camp for two weeks before shooting. Kathryn Bigelow rehearsed us in motels and truckstops in Arizona for two weeks for Near Dark. The comradeship is always there. We've been through wars together.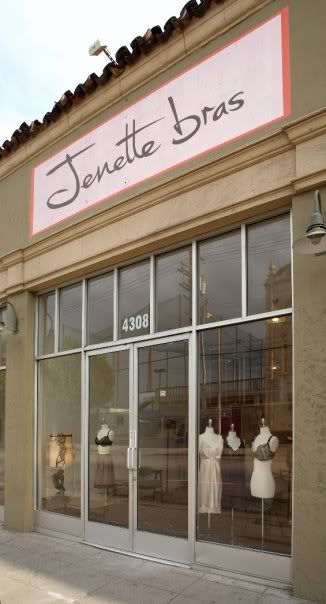 So what motivated you to get into retail? Was there a crossroads in showbiz?
When the work started drying up in my early 40s, I started looking around for something else to do. I never had a plan B. I went through several of those 'creative' ideas that are guaranteed to keep you poor–Spanish Language Acting Camp for Kids!–but they fortunately petered out.
Then, last year, I discovered, or I should say rediscovered, proper bra fitting. I saw an unfortunate photo of myself and thought, 'This can't be right. How I can I look both vulgar and matronly?' I Googled "small back, large breasts" and discovered all these busty women blogging about the handful of traditional bra fitting shops that still survive. There's like a whole hourglass underground out there. I became fascinated with how I, a movie actress in Los Angeles for Chrissakes, could arrive at middle age still wearing crappy bras not even close to my right size – 30G, in case you're interested. I'm overdeveloped and underserved, man.
30G, huh? How is this possible? I'm familiar with your movies, and you don't look that busty. Obviously, I have no idea how bra sizes work.
I didn't realize myself I was a G-cup until last year. You shoulda seen my husband's face when I told him. It has to do with my small back. Actually it's the ribcage.
Listen carefully: Band size is fixed, cup size is relative to band. The number is a measurement, the letter is a symbol of volume relative to ribcage. A G-cup on a 30 band holds about as much boob as a FF on a 32, a F on a 34 and a DD on a 36. Is this sexy enough for you yet?
Yes, actually. So you get to fit all these racks personally? Must be laborious.
Fitting is more art than science, partly because there is no universal standard. I'm dealing with four main systems: U.S., U.K., Europe-Japan and Australia-New Zealand. The U.S. and U.K. systems are based on inches, Europe-Japan is metric and Down Under uses a dress-size scale.
The U.S. is the worst. There's a Spinal Tap-ish phenomenon known as vanity sizing, in which garment sizings have been haphazardly lowered to make the consumer feel smaller even though she's wearing the same size. The system is generally not coherent, and it breaks down completely when you go over D. To put this in more useful terms, if the gal in the personal ad is claiming to be a double D, that actually tells you very little. About her breasts, anyway.
Do you get a lot of customers from the Valley? Porn stars perhaps? Who is your clientele? Sold any Ks recently?
Jenette bras is in East Hollywood, but my customers drive in from all over the city, Valley included. They range from 12-year-olds accompanied by their mothers, to bubbies in their 80s. I have had a couple of 34Ks since opening, but 32H is much more common. As for porn stars, only one: the gal with the largest natural breasts in the world, according to Guinness. People assume that fake boobs are my bread and butter, but it's not so.
Are you pro-boob job? I mean, myself, I'm tolerant of women who want to do it for sake of that whole life-after-kids thing, but that's about it. What's your stance on the plastic tittery?
To each her own. Big fakes look angry to me, but as far as plastic surgery goes, my clients are more likely to have had breast reduction surgery. And still they couldn't find a good bra.
I imagine a lot of sales are generated by a Jewish demographic.
Looking at my client list you'd think you were at a Haddasah worldwide convention. Except the hall got double booked with a black family reunion.
What was your Jewish background like?
Hebrew school, Bat Mitzvah, Camp Ramah. My grandfather ran a deli after retiring from the gangster business. Never married a Jewish guy, though. I've had two husbands with lovely goyishe names. I could have been Jenette Stevens. Now I could be Jenette Noble. Nice, right? Pleasantly non-ethnic. But I felt if Goldstein is good enough for Orwell, it's good enough for me.
I grew up in the shoe business and found that the majority (8 of 10) were mis-educated about shoe size. I imagine this is quite common among your customers, not knowing their proper size.
Similar percentage in the bra business, but the confusion is much worse. Our grandmothers and mothers knew more about it than we do today. A lot of us, when we were kids, our mothers took us to an old dusty shop with an unsettling display of mastectomy bras, where an ancient Jewish lady said, 'Bend over darling,' and strapped us into a well-made and highly anti-teenage contraption, signaling the end of all fun.
All my middle-aged customers remember this in detail but, somewhere along the line we were reeducated by big chain stores that use low price points and a low inventory business model that is painfully inadequate for the glorious diversity of mammary tissue in the medium to upper range.
I enjoy espionage, so I went the other day and got fitted at one of those tacky, boudoir mall stores. A teenager with a hickey on her neck, paid on commission I believe, took me back. She brings out a double D with a huge band, lets the straps out all the way until my bosom starts to merge with my stomach, and tells me that's the best she can do for me. Really. What do I need a bra for?
Is it possible to eyeball a cup size at the dinner table?
Absolutely. Cup and band. My husband is pretty good at it, but he's learned to keep his findings to himself. Even my brother up in Berkeley is selflessly devoting his time to keeping an eye out for potential clients.
What do you think?