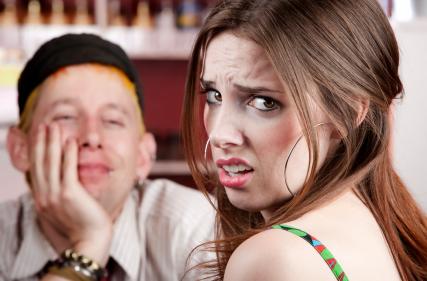 Jews are, traditionally, the "people of the book". But when it comes to the chapter on dating, it seems that no one is on the same page. At least, that's the lesson learned from a recent study commissioned by Spark Networks – the parent company of JDate.com and ChristianMingle.com – in which over two thousand users, between the ages of 18-5, from those two sites basically confirmed that no one knows what the fuck an actual "date" is.
Reports the Daily Dot:
While 80 percent agreed that a date is a "one-on-one hangout," 24 percent defined dating as "a planned hangout with friends," while 22 percent defined it simply as one person asking another person out. When it comes to defining what constitutes a "date," a good percentage of singles appear to have just thrown up their hands and admitted defeat: at least 69 percent of the survey's respondents said they're at least somewhat confused about whether an outing with someone they're interested in is a date or not.
In other words, a JDate-er or Christian Mingle-er is likely to encounter some serious confusion before any serious booty-getting (or, meh, "relationship") takes place.
Look, dating is – and should be – a little awkward. It's about putting yourself out there in the hopes of finding serious romantic companionship, or at least someone to make squishing noises with. The appeal of these types of sites is (I think?) that it makes the whole dating process easier, not harder. But if, as this study seems to suggest, a site user is likely to end up on something significantly different than what they expect a "date" to be, you have to ask yourself – is it worth being on the site in the first place? If it's awkward ambiguity you want, why not meet someone offline, and go on Schrödinger's date without JDate's data-mining fingers in your business… and without having to pay a $36.99 monthly membership fee, either.
Unfortunately, given that this study was only conducted on JDate and Christianmingle.com, there's no data on whether  "date-confusion" applies across the whole of Spark Networks' online properties, which include Blacksingles.com for Black daters, LDSsingles.com for Latter Day Saints daters, and Silversingles.com for silver elderly daters. Are Black, Mormon, and Elderly singles are equally bumfuzzled (well, maybe not the elderly daters, who I hope, in my Norman Rockwell-esque tinged nostalgia, all think dating is going to the ice cream parlor and splitting a malted), or is this just a Jewish/Christian thing? The world may never know…
Still, if you are looking for some online semitic love, and are a little intimidated by all this date confusion nonsense, Heeb Hookups may be just the refreshing blast of honesty you need:
Happy Dating!
[cover image via]
What do you think?