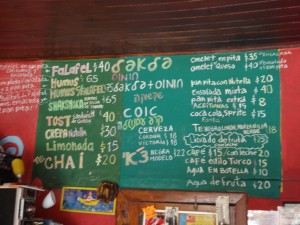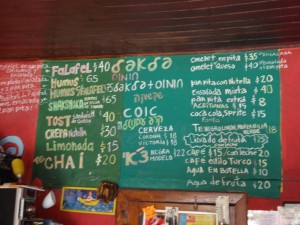 By Adina Siperman
Mexico is a country of endless contradictions.  Today's papers portray Mexico as a lawless country, entrenched in bloodshed and brutality over the distribution of drugs. And yet popular culture shows its pristine beaches, colorful piñatas, and ever-flowing tequila shots.  Hidden within the mountains of the southernmost state of Chiapas is a small city called San Cristóbal de Las Casas. Home to less than a quarter of a million inhabitants, San Cris, as the natives call it, is a diverse city in which Spanish, Tzetal, English, Tzotzil, German, Chol and Swedish are heard on its cobblestoned streets and in its bustling markets.  And amid the myriad of tongues, there is also a "Shalom" if you know where to look.
San Cristóbal thrives from a bustling tourism industry. Located at the mouth of Central America, it serves as a stop for backpackers travelling from Mexico to Central and South America. The winding streets are littered with souvenir shops, internet cafes, and youth hostels. With Mexican and Mayan culture prevalent on every street corner, the city seems an odd location for an Israeli falafel stand. But on María Adelina Flores, steps away from the city's main square, sits an Israeli restaurant simply called Falafel.
Shalom Hanoch wafts from the speakers, and the walls are covered in Hebrew messages from earlier explorers. In the corner is a modest Hebrew library where Israeli travelers drop off and pick up books, including Amos Oz and Etgar Keret. The handwritten Spanish/Hebrew menu offers hummus, shakshuka and Israeli toast, but falafel is the most popular dish.  The fried chickpeas in pita cost diners 40 pesos – a price similar to that found on Tel Aviv's Dizengoff or Jerusalem's Ben Yehuda streets.
Israeli travelers fresh out of the army winding their way through Latin America often happen upon San Cristóbal on their way south. Reminiscing about his one-year trip after the army, Chen Bercovich, 29, discusses his experiences travelling as a Jew.  "Of course I knew that the rest of the world wasn't Jewish.  But to leave Israel and be immersed in Christianity was an interesting thing.  I was the first Jew that many Mexicans ever met.  So travelling to a little place so high in the mountains and so far from Israel to discover a falafel stand on the same street as a church was very exciting."
"I found it comforting to taste home again," Chen Bercovich remembers.  "Of course, it had a Mexican slant. The hot sauce was more salsa than sc'hug, but I was happy just to be eating pita again."
But Hebrew is not the only language spoken in Falafel. The restaurant is a success with foreign travelers and Mexicans alike. "It was interesting to learn that we are not so different – the Mexicans and the Israelis," says Dario Armengol, 28. "We both eat fried food wrapped in round bread and covered in sauce."
Whether you are looking for fun, fantasy or falafel, San Cristóbal de las Casas is an ideal setting for a delicious adventure with some spice.
Adina Siperman likes buying toiletries in foreign countries and being reminded of her adventures through the weird scripts on the shampoos in her bathroom. She eats all cuisines intended to be consumed with chopsticks. And she heads straight to the bookshelf in a new home, to understand who it is she is visiting. Her writing can be found in various publications, including The Jerusalem Post and Lemon Life. Adina is originally from Toronto, Canada, but she now lives next to the beach in Tel Aviv, Israel.
What do you think?