The fan boys behind Telefission and Said Generalized Fig have whipped up an alternate galaxy from far, far away where characters from the Coen Brothers's films assume the roles of Luke, Han, Leia, 3PO and the more obscure Star Wars folk.
Loving the fact that Boba Fett is Leonard Smalls, by the way.
Boba Fett played by Leonard Smalls of Raising Arizona.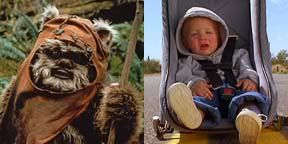 The Raising Arizona baby makes for a cute Ewok.
Jar Jar Binks from Episode One bears a striking resemblance to The Big Lebowski's Jesus Quintana.
Check out the rest of thecasting selections here.
Related Posts:
Kids in San Diego Make Star Wars Hanukkah
Man Behind Epic Phantom Menace Review Speaks
What do you think?