"I think this might just be my masterpiece."
That was the final line ofdialogueinQuentin Tarantino's script for Inglourious Basterds when it was leaked online, before a single frame had been shot, in July 2008.
That statement would come to be seen as a bold proclamation among both Tarantino devotees and detractors. Yes, whether he liked it or not, Tarantino had thrown down the gauntlet. "Masterpiece" was the buzzword that the already lauded director's 10-years-in-the-making film had to live up to, and people weren't going to settle for anything less.
A year later and I'm sitting in a packed theater—some audience members are giddy with excitement, others are clearly eager to call Tarantino's bluff. The lights go down. One hundred and 53 minutes later, I leave the theater. My heart is pounding—my body humming with a rush of adrenaline that only a Tarantino movie (or a swift punch in the jaw) can provide.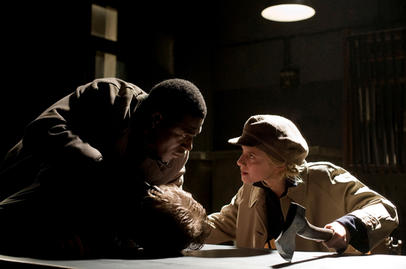 Inglourius Basterds tells two stories. The first is the Basterds' tale—that of a group of Jewish American soldiers sent to Germany on a brutal, Nazi-hunting mission designed to strike fear into the hearts of Nazis across the land. The second is the story of Shosanna Dreyfus, a French Jewish teenager who, after surviving the slaughter of her family by the SS, escapes to Paris. There, she comes to own a movie theater and finds herself being courted by Germany's fresh-faced military superstar. At first Shoshanna resists his advances, but she begins to reconsider after seeing the opportunity to do significant damage to the Nazi party. The two stories roll out side by side like a blood-spattered red carpet leading to a glorious conclusion at Shoshanna's theater. There the plots merge, causing both figurative and literal fireworks with a twisted ending that gleefully breaks the unspoken "laws" of historical film.
Not least among the film's attributes are its players. The characters' mental manipulations are as suspenseful as the shocking, humorous and often unexpected acts of violence that Tarantino expertly uses to punctuate the storyline. The film contains four languages and Tarantino picks a nice mix of Hollywood stars and obscure European stage actors to fill the parts. Brad Pitt clearly relishes every moment as Lt. Aldo Raine, the leader of the Basterds. The role is a return to the kind of "hick" character that launched Pitt's career in films like Thelma and Louise and Kalifornia. In fact, all the Basterds— especially Eli Roth as Sgt. Donny Donowitz—seem to be having quite the time hamming it up as the crass, vengeful soldiers.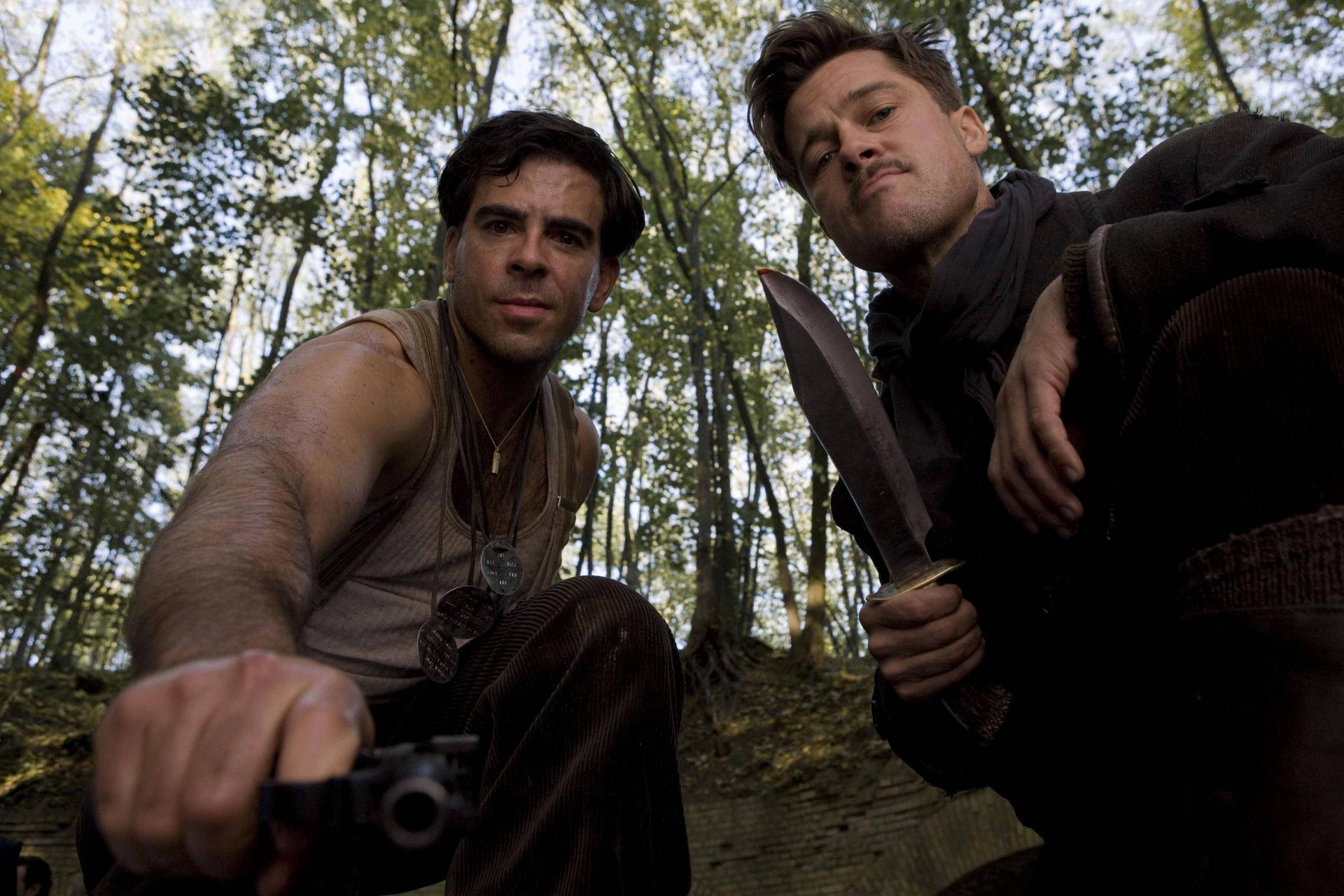 And, in true Tarantino style, the film prominently features righteous and cunning femme fatales, played by Mélanie Laurent and Diane Kruger. Kruger plays a German actress named Bridget von Hammersmark who acts as a spy for the British allies, and Laurent is perfect as the headstrong, cold Shosanna, eager to sacrifice herself for the cause of vengeance.
The show-stealer, however, is German actor Christoph Waltz in the role of "Jew Hunter" Lt. Hans Landa. The performance will surely gain him on Oscar nomination, as well as a place among the ranks of notoriously charismatic villains like Hannibal Lecter and Frank Booth from Blue Velvet.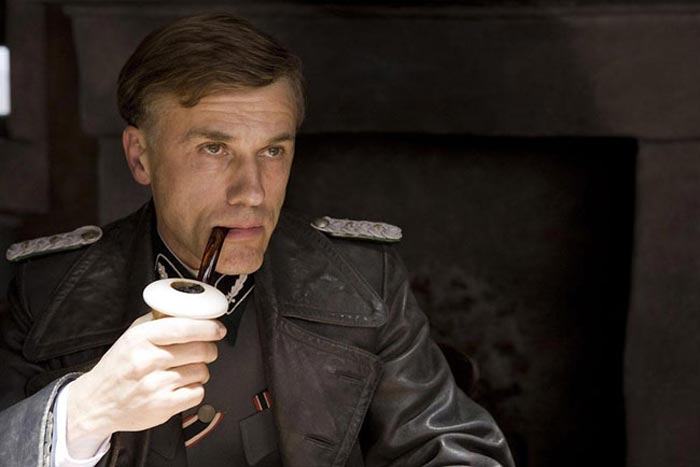 Tarantino has always drawn from a deep well of cinematic and pop cultural influences (as well as his own life outside of darkened theaters) and this story was no different. The director combined a wide range of genres—noir, spaghetti western, French New Wave and war epic— to create something wholly original. But this time Tarantino took it a step further: He explicitly made cinema itself an important character. Much of the plot revolves around the premiere of a German propaganda film, which depicts a German solider single-handedly killing hundreds of allied forces from a sniper tower. This metatheatrical show reminds the viewer of the somewhat absurd wish-fulfillment quality of cinema, even as they buy into it themselves during the satisfying ending.
While someone who knows nothing about film could still easily enjoy the movie simply as a sprawling revenge fantasy thrill ride, Tarantino has layered in enough references, double meanings and metaphors for what could—and I'm sure will—fill books and keep critics and film buffs debating for decades to come. Some will most likely find this self-conscious or pretentious, but it's hard to complain when everything Tarantino did was so clearly done with respect and love for the medium. It's like Tarantino hid little treasures throughout the movie for people who share his obsessions.
Needless to say, not everyone will appreciate the artistry. The movie is more than half subtitled, has many scenes in which stupid people will claim "nothing happens"(although, trust me, it does) and runs nearly two and a half hours. So I have my doubts both about its commercial success in the U.S. and the future of the Weinstein Company. Still—box office numbers aside—it's clear that Tarantino made exactly the movie he wanted. A movie that I believe he would not have been able to undertake earlier in his career. . . His masterpiece.
Inglourious Basterds opens on August 21.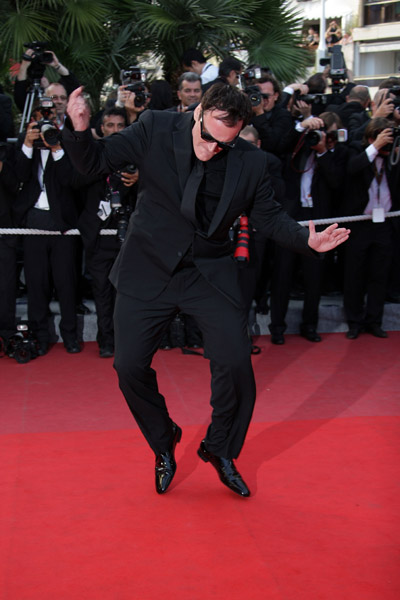 What do you think?