If any of you still watch The Simpsons, then you enjoyed a mild delight on last night's episode, "The Greatest Story Ever D'Ohed." The animated clan and their close-knit neighborhood cohorts went on a trip to the Holy Land. Yep, Ned Flanders convinces Homer and the family to head to Israel in an effort to save the "D'oh" spouting heathen's soul. Believe it or not, it's actually refreshing to see a gentile take on Israel. While so many Jews are exposed to the hilarity and mishaps of a Bar/Bat Mitzvah sojourn or a 10-day booze-filled excursion, it seems that Christian jokes are a stone unturned in the annals of Israeli mockery. At least until last night.
So what do we get? Homer, in typical form, isn't the ideal tourist. After is harassed by security at Ben Gurion, where security forces him to admit that latkes are better than American pancakes. Once they start touring around, it becomes obvious that Homer might not be worth saving. While the rest of the group is soaking up the religious experience, Homer takes pictures of soda cans and orders a large falafel with sausage, pepperoni and extra cheese from inside a church.
The Israeli tour guide Jacob (played by Sacha Baron Cohen) is rude, always rushing, eager to tell you of his military might ("You can hold my gun. I used it in Entebbee. I killed three Ugandans!"), and spouts off lengthy Hebrew diatribes over the littlest things–a close approximation of every tour guide in Israel. I think they actually stole this line from one of mine: "Safety? Israel is the safest country in the world. The only danger here is dehydration, so drink up."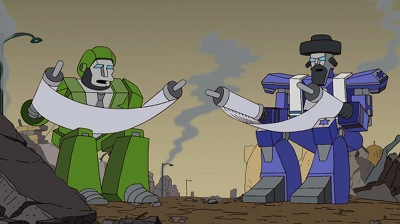 All in all it was a silly little episode with a couple of inside chuckles and, of course, Jewish Transformers. But many fans have left The Simpsons behind specifically because of episodes like this, which riff on a theme ad nauseum. For myself, being on the inside of all these Israel jokes made last night's episode a delight.
Related Posts:
What do you think?