Check out this huge Polish billboard mixing Der Führer with a bloody fetus. In case you're wondering why, "Abortion was introduced for Polish women by Hitler on March 9, 1943," reads the text below the image. Logic follows that abortion is evil. End of discussion.
Just add Hitler, and your argument's made. Sadly, it's been recently discovered that the leader of the Third Reich also drank water, breathed air and, occasionally, went to the bathroom. All civilized nations must immediately outlaw these savage Nazi practices.
And if the concept wasn't subtle enough, check out the scale of this thing in the image below. That's an actual human there in the bottom-left corner.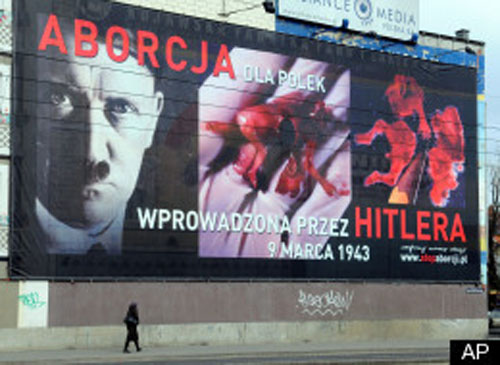 Related Posts:
Tired Hitler Meme Just Got Hotter
Do Not Fear Zombie Hitler; KGB Made Sure The Fuhrer Wouldn't Return
What do you think?