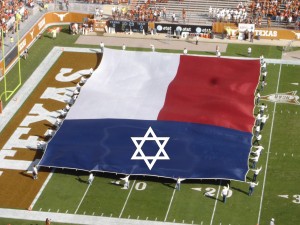 A former student at Perryton High School in the great state of Texas is suing the school district over his school's now-ended Red Ribbon Program. In the program students wearing red ribbons played the role of Jews, while those without ribbons played Nazis. The "Jews" had to take orders from the "Nazis"–including performing difficult and humiliating physical tasks.
How could such a perfectly designed program have gone wrong? Well…
The "Jew" filing suit was forced to carry a "Nazi" who weighed 70 lbs more than he did. As another "Nazi" jumped onto the "Jew's" back he suffered a partially dislocated hip.
The student is suing the district, not the students, presumably because the students "were just following orders."
What do you think?