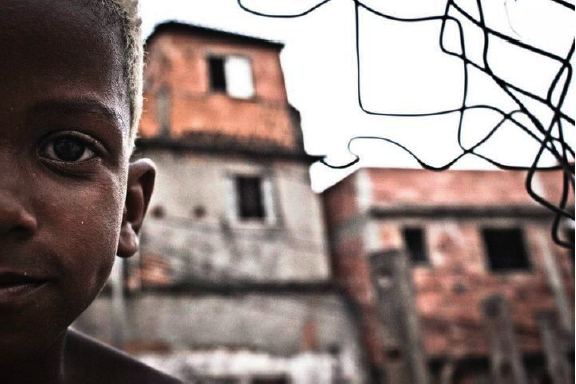 Last night, Ticún Brasil, opened a photography exhibit at lower Manhattan's FB Gallery entitled Orfeu Negro, based (loosely; let's say "conceptually") on the 1959 film Black Orpheus. On one side of the exhibit are photos of Brazil's favelas taken by a young photographer Léo Lima who grew up in the favelas and has gone on to win awards in Brazil and study at one of its best art schools.  On the other side are photos of a naked lady painting herself with a brush… done by a French artist Konstantin Lunarine–who, I was told, happens to be a big fan of Brazil. The juxtaposition of the two was meant to show myth vs. reality. Or some such.
Upstairs showcases the work of children who as part of a Ticún Brasil program learned  about photography from an American volunteer and then were given a camera to go out on their own. The works are impressive not just because they provide physical proof that the children miraculously managed not to have the camera stolen, but also because they show an organic POV of a very different world that isn't often documented.
Great, you say, but… what's all this got to do with us Jews?
Good question. The first thing you would have noticed upon entering the exhibit opening is two mellifluous sounds floating and commingling in the air. The first, the danceable (even for Jews) beat of indigenous Brazilian rhythms provided by a live band. The second, the "dulcet tones" of the Russian language provided by live Russian Jews. The place was packed. And I'm not sure if there was a single Brazilian there. (I witnessed a cringeworthy exchange in which one black attendee was asked excitedly if he was Brazilian and then explained apologetically to the very disappointed Russian girl who'd asked that he was, in fact, from New Jersey.)
Ticún Brasil is an organization that hosts trips for young people interested in Jewish volunteering opportunities in Brazil and is administered by Russian Jews Alex Minkin and wife Elena Zavelev. I asked them the very first question that came to my mind: why Brazil exactly? They explained that it is already an sought-after travel destination for Jews, has the 10th highest Jewish population in the world (who knew?), and lacks that certain je ne sais quoi of European anti-Semitism. All in all, not a terrible place to go if you want to help out aging Jews at an old folks home while also soaking up the rays in South America in the middle of North American winter. Admit it, Florida is becoming a little passé.
The exhibition (which ends with a 6-9pm showing on Sunday) is meant on one level to raise money for good causes in Brazil. Mr. Lunarine often donates money from his works to Brazilian causes. But equally importantly to Mr. Minkin, the exhibition hopes to bring attention to Ticún Brasil's upcoming (November) volunteering trip. I personally saw him win over at least one recruit while I was there, so it seemed headed for success on both counts.
I headed out a little early–as the party going on next door made it a nearly impossible to hear or be heard, and the packed room made it a nearly impossible to stop sweating like an animal. As I left I thought the whole event reminded me of feelings I've had about the Jewish people in general: A little loud and uncomfortable, but very culturally interesting.
What do you think?