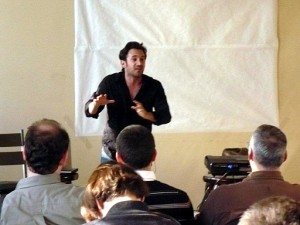 By Berel Berko
Joshie Berger comes from a long line of men whose every meal through adulthood was prepared for him by his Jewish mother. When Joshie finally achieved independence, his incompetency in the kitchen drove him to extreme measures. He joined the second season cast of Worst Cooks in America on the Food Network and miraculously pulled off a surprise victory, transforming himself from culinary schlamazel into celebrity chef. Heeb interviewed him last year regarding his exploits in reality TV land. Back for a return interview, we caught up with Joshie to see what else he's got cooking.
Joshie is at his post at the kitchen counter, knife in hand, cutting away the fat from the chicken he prepares for dinner. His lady friend is in the shower; next she'll fold their laundry. The Mets are playing in the background. Moishe Rabainu (the dog) is chasing his ball around the apartment. Joshie's computer rests open to the newly formed Facebook group Openly Off The Derech, already strong with 200+ members in just under a few weeks. Our conversation with Joshie lasted several hours, spanning a topic very close to his heart. Filled with passion and energy, we listened as Joshie detailed his thoughts behind the rising numbers of Orthodox Jews losing their religion. He described to us his role at the center of what he believes is a rising phenomenon, catching the attention of rabbis across Brooklyn synagogues and beyond. More now than ever before Orthodox individuals are seeking answers and proudly gaining the ability to think critically.
Why did you stray from religion and what was it like for you in the beginning?
I clearly left for intellectual reasons. I'm an atheist and couldn't continue to be part of a movement I didn't really believe. Unlike others who leave the religion, I was constantly reading books and searching for real answers. I had a lot of questions so my father set me up with the Chusta Rov. The Rov is a smart guy but gave me stock responses. So sure of his answers, he fed me more doctrine and dogma. I was unimpressed. It was clear to me he couldn't think for himself.
What spurred the formation of the Facebook group? Was Egypt and the Arab Spring an inspiration to you?
I'm hoping to connect like-minded people and filter out those who are still mired in antiquated beliefs. Honestly, it's also a lot of fun! Like there's some Jewish music I forgot about and it's great access to resources.  I think it will help people meet others with similar ideologies and philosophies, but I don't want Openly Off the Derech to be pitiful. That's why I don't go to events for the ex-religious. Those people are dripping with nebuchness and nebbishness.
The timing of the group was important. It correlated with the Leiby Kletzky murder. Secular people off the derech (OTD) were up in arms about the way the rabbis were explaining it away. A rabbi actually said with a straight face that Leiby was murdered because of gay marriage. Come on! Even if that was true, how does he have that information?  People OTD now have a forum where they can say, "I'm angry! I was once a part of that."
I remember I was still religious when Rabin got killed and when I heard the news, can you believe this, I was happy! Rabin was a normal, secular Israeli and his assassin was a fucking loony religious person. I remember thinking, "Yeah, [Rabin's assassin] did a good thing." But now I realize that Rabin was for peace. These kinds of stories conjure up feelings of shame. Sometimes a person will go on the group and ask, "Why is everyone so angry here?" It's because so many OTDs are full of rage, because we believed in the bullshit for so long. Now there's a forum for people like us to relate to one another. I'm actually surprised people aren't more pissed off.
Do you suppose most religious people truly believe everything they practice?
I don't think it's possible for everyone to believe in the crap. I know tons of guys who are cheating on their wives. They tell me, "Look at me, come on. I have seven kids at home. Where am I going to go? What am I going to do? I love my wife." Of course love is really watered down in that context, it means she makes him cake. Sadly for many people adherence to the religious lifestyle is forced upon them. I see certain chassidishe guys in Williamsburg and I can tell you in two seconds whether he is bullshit or not. It's how he wears his shtreimel. The way he walks or talks on his cell phone and looks at girls. I'm not going to throw out percentages of numbers, but it's alarming the amount of chassidishe people that actually don't buy into the bullshit. I know of Shabbos meals where guys are standing in the hallway smoking afterwards. This stuff didn't go on 10-15 years ago. We have the Internet to thank. I mean it's really a blow to all cults. Lets be honest, Orthodox Judaism is not a religion. They manipulate people and hide information. It's a cult.
Do the rabbis shame people into submission?
It's more like pressure. Only in a cult would a person buy any bullshit served to him. I remember a story a couple years back. A religious man got pissed off at his wife, drove his car to the end of the BQE, put on his tallis, and jumped. My friend, a Hatzolah (EMT) guy was one of the first on the scene and told me about it. There were people yelling, "Don't do it. You have so much to live for!" and he jumped anyway. The guy wrote and left a note beforehand. Then of course came the question of burial. They refused to make the [funeral] because it was suicide.  I questioned the entire scenario. I was still religious and living at home. My father said, "You believe that he jumped off? He was pushed!" There were eyewitnesses.
Of course my father and so many others countered, "Oh, you believe those goyim? The anti-Semites?" When you grow up thinking every non-Jew hates a Jew you start to believe that Jews can do no wrong. That is cult-like behavior. It is manipulation of the mind.
There are several criteria of what constitutes a cult. Robert J. Lifton elucidates what are the criteria. Cult deprogramming is well understood at this point.
Yeah, I believe Germany defines Scientology  as a cult. I think clearly Orthodox Judaism would qualify as a cult under those definitions. I think getting your wife to wear a wig and go to the mikvah is an example. They are controlling the sexual impulse and ritualizing it. The real question is what's going to happen next. Up until now, before the Internet, Orthodox Jews and all cults had a good system of excluding dangerous information. If an area got too mixed and started to assimilate, they just moved further out. They ran to their ghettos but that game is over. Now anyone with a smartphone has access to all the information they need. Koshernet and Koogle don't do the job. Everyone in every office has access to Facebook. You saw what Facebook did in Egypt?
Historically the Jew is stereotyped as a shyster. In your opinion, is this notion perpetuated by recent Ultra-Orthodox scandals?
It's a few things. Number one, Orthodox Jews search for loopholes. It's okay to steal from the government because the government funds things contrary to the Jewish people's morals. Some of our tax money goes to churches and other things, so it's our right. It's our money. But the bigger idea is when you are raised to believe Jews are the chosen people. It means God gave everything to us, for us. We're his boys and everyone else is in the way. No rabbi thinks he is a bad guy for stealing Section 8 housing and food stamps. They genuinely believe it's justifiable. Religious morality is an oxymoron.
How can OTDs avoid feeling sorry about their situation?
I think people have a hard time learning to deal with their past, while not having it affect their futures. I hope this Facebook forum will help people vent outside of their every day lives. I know so many people who just can't let it go. Everything they talk about reminds them of their past. Living OTD means learning how to cope with the difficulties of life in new ways. 
I have a lot of OTD friends who are still in Williamsburg living in their parents' basements and I'm so confused when they tell me that. I can see that they're miserable because they're still in the community. That's why I advocate an in your face attitude. If you still wear a yarmulke and walk around Borough Park, not believing in it, you're crazy. I refuse to wear a yarmulke anywhere. To me it symbolizes oppression, lack of critical thinking, foolishness, stupid rules, and mostly reminds me that my adolescence was robbed. Oy, every time I wear it, I feel oppressed upon. I'm an intellectually honest person. I don't care if I'm homeless someday, I will never go back. People said I would be crawling back and I said, "No, I'll never live a lie."
What is it like to be the judge of your own actions? For so long you believed in an external judge or a book that could tell you the difference between right and wrong. What is it like for you now?
I became a better person because I am now responsible for myself. Lets say you have a designated driver, you think you can get really drunk and someone else will figure out how to get you home. For instance, when my friend asks me to watch his two kids I become way more responsible because I'm in charge. It's really empowering to think, "Oh, I'm a really good person now because I'm doing all this good without the threat of punishment or the promises of rewards. It's a very gratifying way to live.
What if someone is psychically damaged by their experience and has no desire to be good?
I don't know if that happens. Find me a statistic that demonstrates that atheist people are less moral than religious people. I'm sure the prison population is overwhelmingly more religious than secular. Atheist societies all over the world are by far the best countries to live in with lower crime rates. Religious people like to say that without religion there would be rampant amorality but I don't think there is evidence to prove that. Most of the evidence is to the contrary. And the way I look at it is this, if I had to choose a business partner, I would take an atheist over a religious person any day.  A religious person will always find reasons and loopholes to steal.
Do you ever try to picture yourself back when you were a believer? Do you try to understand what you were thinking back then?
Every time I fly and feel turbulence, I think I'm going to die. That's when I say to myself, "Joshie, I've lived an amazing life the last eleven years. If I die, I die happy." When I walk into McDonald's I still get that amazing feeling and think back to when I ate at Kosher Delight. I get so giddy when I go to a water park and I don't have to cover up. I can eat a hot dog. We used to have to carry matzahs and packed lunches!
I'm just so excited about life now. There is no time for brooding and ruminating on the past. I can't wait for this group to be 1,000 people strong because already rabbis are talking about how to stop us. They want to shut us down.
Do people reach out to you who want to join the group but are unsure of the consequences?
I know one of the benefits of this group is that 80 percent of the members in the group are OTDs and really hardcore atheists. They feel the same way I do. Every time I write something people click like and email me. Behind the scenes I have a ton of people writing to me saying,  "Look I'm intellectually there but I'm not ready yet socially" or "I have a wife and kids" or "I don't know how to deal with this, but the group is really giving me support." I feel like I'm part of something. It's like with gay people coming out of the closet. It's so much easier to come out when you live in San Francisco or New York than Milwaukee or Minnesota. The group is a virtual reality for people to express their doubts about religion, the community, and the religious lifestyle. These people need someone to talk to.
How will people respond to what you're doing? Are you prepared to face brutal, vicious criticism and attempts to defame your character, ad hominem attacks, etc.?
If people only attack my character it proves they don't have a way to respond to my rational arguments. There is no question that in the back of my mind I imagine there are two chassidishe thug kids looking for trouble. And when they find out I'm the guy who caused turmoil in the community, I can see them coming with baseball bats. I mean it happens in Israel, but I won't live in fear like that. If people lived life like that, no social progress would ever be made. I think most people who talk to me for a few minutes realize I truly believe in what I'm doing. I'm helping people.
How often do you have those senses of the absurd that this is all one big cosmic accident?
We are only 150 years into true scientific discovery. Before Darwin there was no explanation for the apparent design of everything. Now we can explain away design without needing a designer. The most brilliant minds in the world today are atheists. 97 percent of the Royal Academy and 96 percent of the National Academy of Sciences are made up of atheists. These people understand the structure of DNA and the cosmos better than I ever will. But I try not to think and worry too much. Like the more I think about death, the less it helps me deal with my own mortality.
Why is it important for you to help others in this manner?
I hate thinking that there are people out there suffering, miserable, and living a lie. They are bogged down and suicidal. I know no greater pleasure than helping these kinds of people to freedom. I know a lot of OTDs who look at me and say, "Joshie, you're a guy who crossed over in a healthy way." I want to help other people get there. What I did worked, so it could work for others too. A big thing is to not become too cliquey with only OTD people. Diversity is healthy for everyone. In my head I can count off 30 people I've helped become secular. I gave them books and conversation. One guy I know is getting a divorce. He is just a kid, only 19 years old! If you're 35 with seven kids, I don't know if it's worth it. But for a 20 year old with only one baby, he can start his life over.
Do you reflexively respond as a Jewish person?
Culturally sure. I'm proud if I find out that an athlete is Jewish and I like to party with Jewish food and music, sometimes. And I'm Jewy by nature—inquisitive and very argumentative. I guess it's hard for me to step out of that. Lets be honest, it's also nice to be part of something. When Christopher Hitchens discovered he was Jewish a few years ago, he was excited about it.
What book or publisher most influenced your thinking?
Anybody with a basic Jewish education should go to the website www.daatemet.org. It is the greatest and most important website ever. For 17 years he was a Rosh Yeshiva. Brilliant is not even the word. This website changed my life.
What about your future? We know you're not going to father seven children, but what is life like with you and moving forward?
I just secured a website to broadcast podcasts. I have Richard Dawkins lined up for an interview and I was just in Vegas for The Amazing Meeting. People were encouraging me to do more podcasts because of my Skeptics Guide to the Universe episode. I would love to have frum people in the audience. I'd want them to hear the fallacies behind their beliefs. It could be enlightening for them.
It's really important for me that this doesn't become my entire life. I don't want to drag my girlfriend and friends into me becoming that guy leading the OTD movement. I want to have a robust and fun life without it being my main focus. Most important is that this is an opportunity for me to help people. But who knows, my girlfriend and I were just talking about moving to Australia.
Watch for Joshie's podcast and blog! skeptschtick.com (It's not ready yet though.)
What do you think?