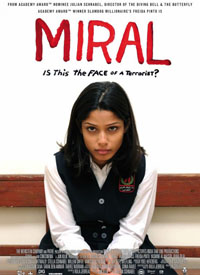 If Jewdar does see Miral, it will be in spite of the movie's ad campaign, not because of it.
Two bands came to Texas to perform live with their own music videos, but one stole the show.
An Israeli poll found that ultra-Orthodox Jews are six times more likely than secular Israelis to believe that convicted rapist (and former Israeli president), Moshe Katsav, is innocent.
A leading Chabad calls on Israeli settlers to fire at police and Israeli army soldiers; A Knesset member should be "boycotted" because she is intermarried; and a Satmar hasid illegally wears a police badge and drives with flashing police lights
Verne Troyer, best known for his role as Mini Me in the Austin Powers films, visits the Western Wall.
A kosher supervision company is told to repay $2.8 million, Orthodox and ultra-Orthodox lawmakers in Israel want to pass a law granting immunity to rabbis who incite violence, racism or murder, and a "psycho-slasher" is too crazy to appear in court.
A $255 million dollar ponzi scheme targeting Orthodox Jews, the Internet causes cancer leading ultra-Orthodox rabbis claim, $1.5 million Judaica heist , and a Haifa pediatrician is indicted for possession of child porn
Ultra-Orthodox rabbis move to ban Facebook, child prostitution and trafficking in Israel, rape and public corruption for an Israeli politician, and a new ultra-Orthodox kosher supervision for…women's clothing.
A leading rabbi-led Israeli Orthodox Zionist organization advocates "death camps" for "Amalekites," Orthodox and ultra-Orthodox Israelis think Israel's parliament is too democratic, disgraced rabbi Leib Tropper gets warm welcome in Jerusalem's ultra-Orthodox community, a riot breaks out during a lecture by an ultra-Orthodox rabbi, an ultra-Orthodox woman was arrested during a family wedding by the...
Israel opens a new Holocaust Museum offering an ultra-glitzy multi-media approach to the Holocaust, complete with simulated death camp train ride, Warsaw Ghetto Uprising sound effects, and kick-ass Yellow Star laser light show..

An Israeli rabbi says gentile sperm makes "barbaric" children, ultra-Orthodox rabbis declare a convicted child rapist innocent and the most liberal Orthodox rabbinic group in the world refuses to admit women as members.

Orthodox and ultra-Orthodox Jews raise $160,000 for convicted felon and former glatt kosher meat king Sholom Rubashkin, and a writer for Tablet Magazine says don't report your local serial killer to police.