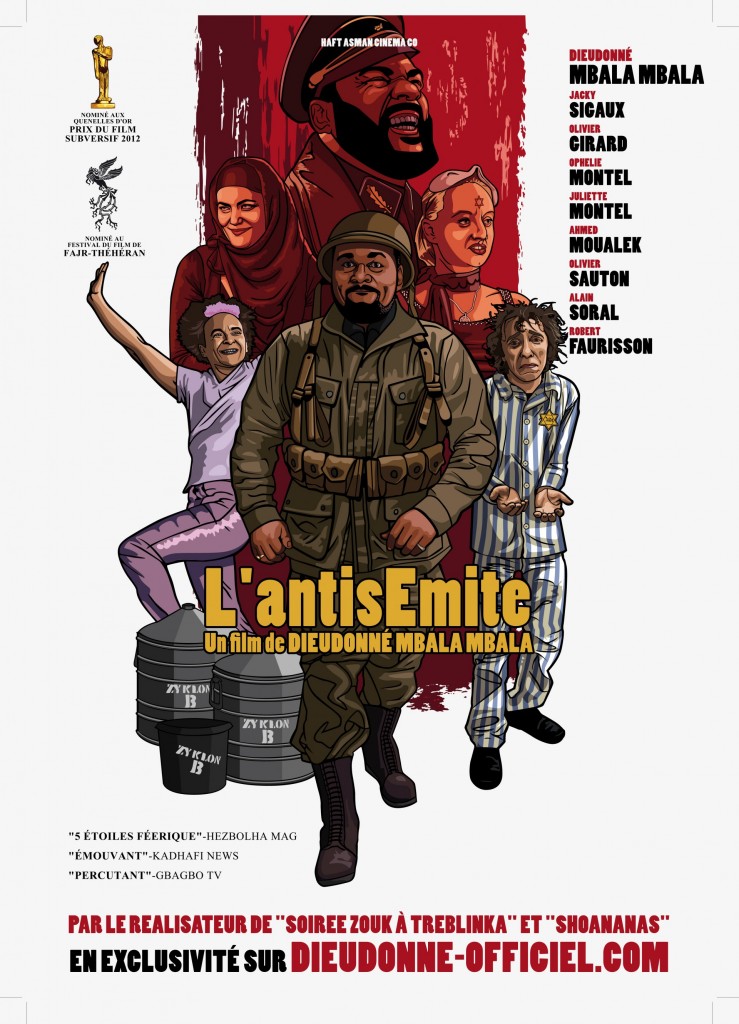 Like any good Jewish masochist I really want to see Dieudonné Mbala Mbala's banned anti-Semitic film, entitled simply and effectively L'Antisémite. To put this in perspective, Dieudonné is France's answer to Mel Gibson, and he really seems to have let himself loose in this one. The problem is I'm finding it hard to get my hands on a screener, so all I have for now is the description provided by Tablet's  Vladislav Davidzon to whom I owe an immense debt of gratitude.
He's seen the film, and here's what he says it contains:
The opening 2-minute skit of the film consists of a Chaplanesque newsreel narration set during the liberation of Auschwitz in 1945. The quivering, grabby hand of a pinstriped inmate extends out from behind barbed wire as the emaciated survivor jostles with a fleshy cigar-smoking capo for attention from the camera. Dieudonné arrives dressed as an American sergeant… The prisoner then reveals the existence of the gas chambers to Dieudonné. As a kitten laps up liquid from a Zyklon B canister, Dieudonné sniffs at the canister suspiciously and then dabs some on his neck like cologne.
and then…
Dieudonné appears dressed as a Nazi sergeant on the way to a costume party with his wife, whose conversation centers pathologically on Jews. Echoing the cries of Dieudonné's critics, his distressed wife asks if he suffers from the sickness of anti-Semitism… The scene fades to black and white, and the film's prancing gay Jewish director offers directions on how to act.
and then…
A circumcision scene takes place in a dimly lit room with a gaggle of masked avatars performing incantations over the child's crib. They perform the operation with a scythe. As the spray of red blood hits the face of a blonde actress portraying a headstrong Jewish chauvinist named Esther, she calls her uncle Dr. Goldstein and tells him about the "monkey" who wants to use his psychiatric services. There follows a predictable bad-acid-scene routine with the shrink during which the film's Jewish producer, a black-leather-trench-coat-clad biker, arrives and ravages Esther by force in the director's room and then subjugates and humiliates the gay director by making him kiss his member.
Wow. Mel Gibson, it's time to step your game up or get out of the way.
What do you think?