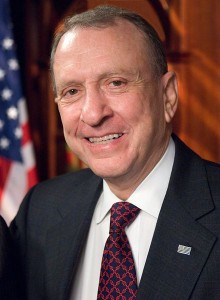 82-year-old former Senator and "Magic Bullet" theoretician Arlen Specter just completed his first New York stand-up gig at famed comedy club Caroline's. If you like topical political humor from a man who literally could die at any second, then you are in for a treat. Remember how Bill Clinton is a womanizer? What about the fact that Newt Gingrich is overweight (and also a womanizer)? Senator Specter sure does. Insult comedy has never been this good.
The question on fans minds: When does the CD drop? "Arlen Specter: Older and Whiter" perhaps?
And if you're one of those naysayers who thinks 82 is "too old" to do good comedy, maybe you should remember another elderly Jewish comedian by the name of Milton Berlinger–better known as "Mr. Television" Milton Berle. May he rest in peace.
via NY Post
What do you think?