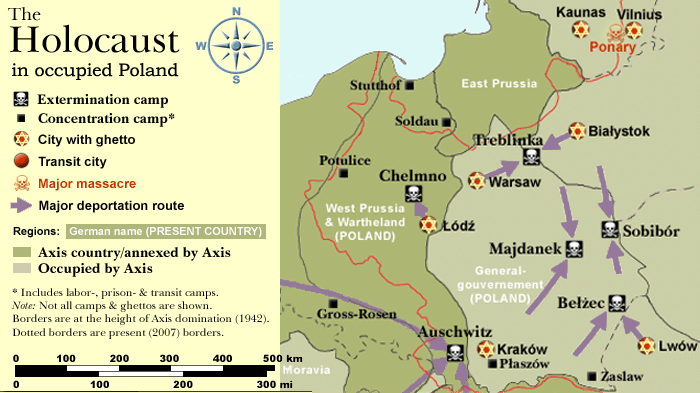 During a Medal of Freedom ceremony to posthumously honor Jan Karski for his heroic efforts to inform Roosevelt of the plight of Jews in Poland during WWII, President Obama made the apparently unforgivable mistake of calling death camps built and operated in Poland with full knowledge of large swathes of the Polish people "Polish death camps."
The Polish government is up in arms. Prime Minister Donald Tusk claimed Obama was guilty of "ignorance, lack of knowledge, bad intentions" and that "When someone says 'Polish death camps,' it's as if there were no Nazis, no German responsibility, as if there was no Hitler." Yes, because I think we can all agree that to assign any level of blame to any of the other countries in Europe for the atrocities of the WWII it is, as Husk explains, like saying Hitler never existed. I'd also like to agree with Husk that the entire point of remembering the Holocaust is to make sure everyone knows that the Germans were the sole responsible parties. For everything.
That a country would look to downplay its role in the H-caust is not all that surprising. (If the Holocaust had been a "success," killing all the Jews, everybody'd be taking credit! Failure is an orphan, but success has many fathers, as they say.) What I've found quite surprising though is the general media response. They are lighting up the internet as we speak with articles, blog posts and tweets (obviously the best way to print solid, deeply researched news) that completely accept as fact the idea that Obama's words were a major "gaffe."
Mark Landler of the New York Times said the statement "was a grave distortion of the darkest chapter in Polish history." Why was it the darkest chapter? I mean, they didn't do anything, right? In a particularly galling last line, Alex Storozynski's piece for the Huffington Post explains that "no one did than the Poles to save Jews during the Holocaust." Odd, given that in Kielce in 1946 (after the Nazi's defeat) Poland held the largest post-war pogrom against the Jews. Don't worry, they blame this one on the Soviets.
As much as it may sound like it, I honestly, have no beef with people of Poland. A lot of people did terrible things in WWII, and their generation is dying out anyway. It doesn't keep me up at night. (See you at the Euro 2012?) And Obama half-apologized already, saying he should have said "Nazi death camps in occupied Poland" or some other equally ham-fisted wording of the exact same thing he already said more succinctly the first time.
But is this really all about a grammatical construction? Because if it's not, then it's an attempt to contend that there were no "Polish death camps." And that really chaps my ass. To put it in perspective, here's a partial list: Chelmno, Belzec, Auschwitz-Birkenau, Majdenek, Sobibor, Treblinka… Turns out, there were, like, a bunch of them.
What do you think?