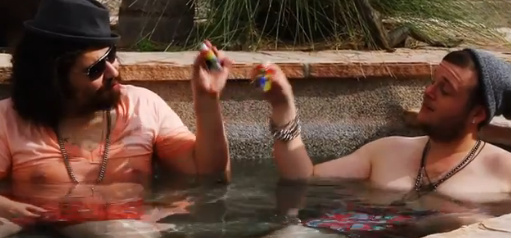 Bottle Poppaz is (finally?) here.
Fabrizio Goldstein (who according to the internets is also know as: The Fat Jew, Jewther Vandross, Fatrick Jewing and Whitney Jewston, as though he needed a better name than Fabrizio Goldstein) has just released a new viral vid Bottle Poppaz about two Scottsdale Arizona party promoters who are about to blow the fuck up. "When you're in the 'Dale, it's about as close to Heaven as you're gonna get…" Amen.
Who could turn their eyes away from a video which has a fat bearded man explaining that he's invented a new way of eating pussy as its very first joke? Not anyone at Heeb.
The point is–while hilarious and offensive–could this not be a real show on any number of "legitimate" TV channels?
What do you think?