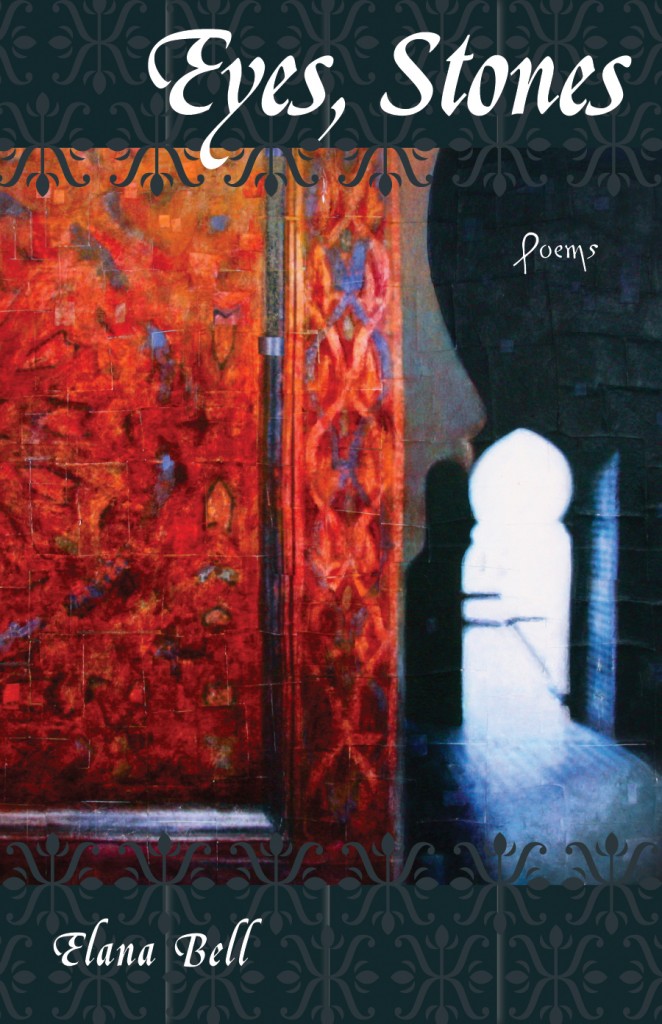 I recently got a chance to talk with poet Elana Bell, the winner of the 2011 Walt Whitman Award, whose new book of poems Eyes, Stones addresses the Israeli/Palestinian conflict from a variety of perspectives. Eyes, Stones had its release last month, and Bell marked the event with a theatrical reading of her work at The Green Room in Brooklyn accompanied by an art auction to benefit grassroots peace efforts by non-profit Just Vision.
Tell me a little bit about the background for this piece and the perspective you come from.
In relation to this book, I am the granddaughter of Holocaust survivors. My Grandmother was born in 1921 and grew up in Lodz in Poland, which was not particularly friendly to Jews.
To say the least.
Yes. And she was part of a movement called Betar, which was a Zionist movement founded by Ze'ev Jabotinsky. So from a young age she had an idea of this place that she wanted to go, Israel. Because she wasn't particularly religious and her family wasn't especially religious–it was sort of this "mythical paradise for Jews." Not the biblical paradise where they sit around eating grapes–it was very work-oriented. "We're gonna go. We're gonna till the land and make it bloom."
Jabotinsky promoted this idea of the New Jew, which was supposed to be different from the "shtetl Jew." And his idea was that Jews out of Israel were like flowers without water or without roots. It was sort of this dried up pale version of what we could be.
[My grandmother] didn't have the opportunity to go in the way that she hoped. [She ended up separated from her family in a concentration camp, but survived.] What she said–she passed away 2 years ago–was that the thing that kept her alive in the concentration camps was this belief in the place she would be able to go someday. This home. Hope is what kept her alive. She said all the time, "Without hope you're dead."
Would you say that you have a hopeful outlook towards the conflict in Israel?
Absolutely. Definitely. For me, what makes me feel hopeless is actually when I look at the big political picture that's presented in the media, when I hear the sweeping fanatical speeches of fundamentalists on either side. And what gives me hope is when–and that's what the making of this book was; I went though my own transformation–when it came to the point where it was clear there were two narratives that could be examined and not just the one that I'd been raised with. And not even just raised with, but which was given to me as the only truth, as the product of an American Jewish education. It was when I actually went and engaged and encountered really beautiful, graceful people who were supposedly my enemies that a tremendous amount of hope began to bloom in me, a different hope. A microcosmic hope, if I can say that, if that makes sense.
I think so. How did you choose which characters to follow? Some of the poems are written from your point of view and some are very specifically from a character's. How did you decide which people you would embody?
It depends on which. Because there are some are that are biblical, some that are historical, some that are contemporary. Obviously everything's coming through my filter. A poem's different than editing published interviews. Poetic truth and literal truth are very different. I might have gotten one thing from someone's story and that became a poem, but I also created composites. So I might have heard three or four different stories and made them into one character.
I kind of found these characters that were foils for each other in a weird way. Not on purpose. It just sort of happened that way. I started reading a lot–in terms of some of the historical characters like Jabotinsky and Arafat, for example.
[Jabotinsky] was quite an intellectual. He published a lot of speeches and essays, so I started to read some of those and really get inside of his head and try and imagine. So some of the stuff is completely from my imagination. Like the fact that his name [Ze'ev] means wolf. I create this poem in which it's because his mother found a wolf. That's not historical truth. That's my own imagination. That's what persona is: you put on a mask, but you're speaking through that mask.
There are other characters that were just really compelling people that I met. Their stories stood out to me, and I wanted to pull from that. Again some of those stories exist very differently on the page than when we sat in the coffee shop and talked about it.
There's the Nassar family that lives outside of Bethlehem on a farm that their family has owned for a hundred years, and some of the people that I met there and stories that I heard were the basis for [Inheritance.]  That particular family runs an organization called Tent of Nations where they bring people–Christians, Muslim, Jews–together for conversation. People come and live with them and help them farm their land. They also have a summer camp where they bring international artists to come and volunteer to teach the children different arts and skills. I taught a workshop for women.
How did you get involved with Just Vision for the performance?
I met Ronit Avni who founded Just Vision, and she had made a movie called Encounter Point about an organization in Israel that actually brings together people on both sides who've lost family members to the conflict–husbands, children, parents, brothers and sisters–to be in dialogue with each other. They actually have become in my opinion one of the most powerful lobbies for peace in the country because of the perspective that comes from having lost someone to the conflict and choosing to still meet to dialogue with each other and promote peace.
[Just Vision's]  mission is to highlight the work of activists that are not getting appropriate and proper coverage in the media–the mainstream media–to really bring their stories forward. I really just connected to their mission, and so I asked them if they'd be interested in being part of it. It's so important to me with this book that it would be connected to the work that's happening.
The actual performance of the poems was very multi-media orientied–filmmakers, artists, poetry, dance. How did you decide on this performative aspect for the piece?
Before it was even accepted for publication I knew that I wanted to create something collaborative and something with dance and music. So before I even knew that it had been accepted I had that vision. Because so many of the poems are these character monologues, it's very hard for me. I find it difficult to read the character poems because they're so short and they require a lot of context. I really wanted those poems to get a chance to breathe and live because I feel like I can really hear the voices speaking, even the ones that are composite characters and aren't literally exact stories. I feel them in a different way, and so I really knew that I wanted to create something collaborative and multidisciplinary. And actually the dancers, the choreographer, we've collaborated for years.
As I started talking about the book I've seen it as having an essential question: How do two narratives live in one body? As I conceived it, in Israel and in Palestine, the one narrative no longer sufficed. At times it was clear that there was another narrative, at times bumping up against the other and in conflict. I wanted a way to embody that physically.
At the end of your performance, in the Q&A, I liked that you challenged the audience. You said, "You can ask me the hard political questions." Well, I was wondering if you could address one poem that stuck out for me as possibly pretty controversial: Naming our Dead. I was wondering if you could address it because it seems a one-to-one comparison of the Palestinian plight and the Jewish plight in Nazi Germany.
It's one of the hardest poems in the book for me. There are definitely poems that still feel very charged for me even though I've read them a lot. One of the things I hear a lot from Palestinians–they use the phrase the Nakba when they talk about 1948, which they call "The Disaster," which is hugely painful to me as a Jew, specifically as the granddaughter  of Holocaust survivors. For me the formation of Israel is like–"Oh my god, the dream. It can happen!" That's an example of these two narratives. What for me is one of the great triumphs in my personal family history is an absolute disaster for somebody else. And can I hold those two things to both be true? Can I say this was a triumph for my grandmother and for her whole life, and it was an absolute disaster for people who lost everything? Whatever the reason.
If I separate from that "Well, they said they would drive us into the sea," from all that reasoning, and just look at it, it was a disaster. A lot of the language when Palestinians talk about it is the idea of feeling erased, the sense that what's even worse than having lost everything is the sense it was never there, that things were built on top of it, and it was never there. I started thinking about that and about the Jews in Eastern Europe, and they are gone. If you look at the area of Poland, which had a huge Jewish community, most of those places are gone and completely erased. I don't look at it as a one-to-one or whose disaster is more–is the Holocaust worse?… That's not a conversation I'm interested in having.
If you look at it physically on the page, I try to create that sense of absence. I didn't title it Naming our Dead Villages. I titled it Naming our Dead also on purpose. I am not saying I know exactly why. For me that felt true–giving language to the absence.
What do you think?