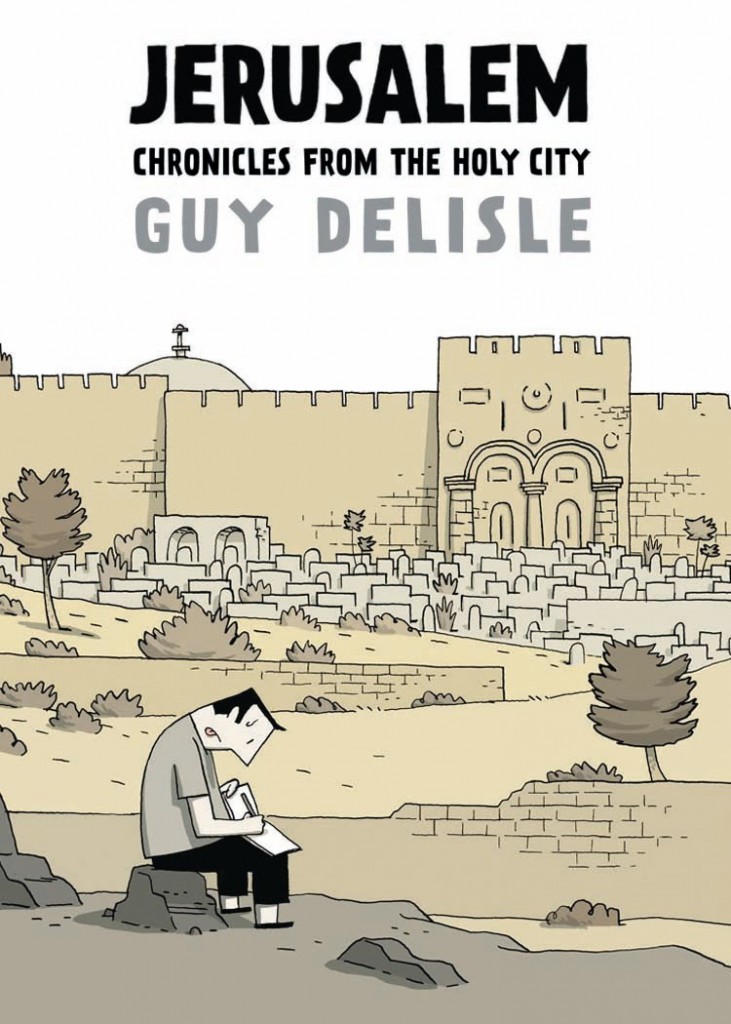 On Monday Desert Island comic book store, Drawn & Quarterly art and literary comics publisher, and Housing Works advocacy group co-presented a Q&A with Guy Delisle, a French Canadian travelogue comic book artist, at Housing Works' NoLita Bookstore Cafe. Sales of the book as well as from Housing Works' large used book collection benefited Housing Works' cause of AIDS and homelessness advocacy. (Advocacy against them.)
Mr. Delisle's newest work–this was his first publicity event for its English language release–is entitled Jerusalem: Chronicles from the Holy City. It revolves around the year he spent living in Jerusalem while his wife, an administrator with Médecins Sans Frontières, helped save the Palestinians…
Now if all this sounds a little like left-wing philoPalestinian tripe, really it's not. Mr. Delisle is refreshingly upfront about his politics, which is to say that he admits that from his vantage point as the plus one of a Médecins Sans Frontières administrator, of course he saw and chronicled the hardships of Palestinians more than those of Israelis. But he claims to have made the effort to go into the situation with what he called a "formatted hardrive." For example, he gladly took Hebron settlers up on their offer of a tour of their settlement, though he admits it came off as fairly propagandizing.
Yes, it could be called immensely naïve to view the Israeli-Palestian conflict as one between refugees and settlers–considering that there are millions of Israelis who view the settlers as, well, total nutballs. However, Delisle seems to embrace his naiveté to an extent, focusing his stories less directly on the conflict and more on time spent on personal experiences, like teaching comic book courses to ultra-religious Palestinian Muslim teenagers, where his drawings of France's topless beaches caused a walkout. And mercifully he never mentioned a solution to the conflict or brought up even one political figure.
Delisle's previous works have taken him all over the world, to no less divisive, but far less covered locales. And he comes to them with a similar clean slate background. He's a comic book memoirist, not a historian or reporter. His books have covered Burma, Pyong Yang and Shenzen. He writes himself into the works and is adamant that he does not fictionalize any part of his accounts. He explained during the event that after spending 2-months in Vietnam, thinking it would turn into a book, he decided that it had just been a fun vacation, and who would want to read about that?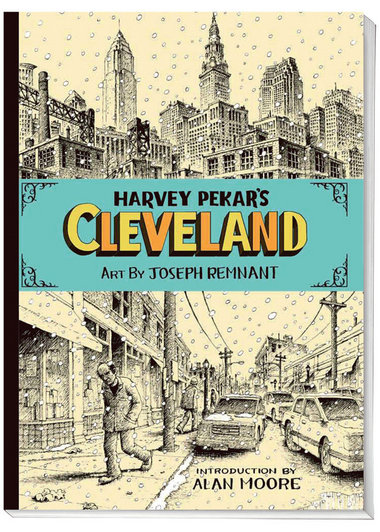 Autobiographical comics fans will also not want to miss Harvey Pekar's Cleveland: A Tribute moderated by Heeb comics editor Jeff Newelt and featuring Joseph Remnant, Joyce Brabner and Dean Haspiel tonight at the Strand from 7-8pm. The event will be a celebration of Harvey Pekar–a pioneer in the field who passed away in 2010–and of the publication of Harvey Pekar's Cleveland which Jeff Newelt edited.
Then again, Housing Works is holding a reading and discussion on sex writing, if that's more your "thing."
What do you think?